McGill, Colley Build Leadership and Careers as Sea Cadets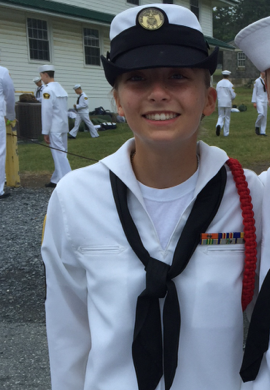 Hang on for a minute...we're trying to find some more stories you might like.
When it comes to preparing for life after high school, most students take classes in their fields of interest, hunt for internships, and participate in extracurriculars to expose themselves to different environments, tasks, and interests. Junior Tanner Colley and sophomore Justin McGill are taking their post-high school planning one step further and working toward their future careers through their involvement in the Naval Sea Cadet Corps (NSCC).
"For most of my childhood, I knew military was a thing I wanted to do," Colley said, "so I knew when I joined [NSCC] that it was something I wanted to do for my career."
The NSCC is sponsored by the Navy League of the United States and is supported by both the United States Navy and the Coast Guard. The program was established in 1958 as a means to expose American youth to public service, military training, and good citizenship. The program is open to teens between the ages of 13 and 17. Today, the program is comprised of over 380 units and 9,000 cadets from all over the country.  
Colley joined the program when she was 13. Since then, she has worked her way up to the highest rank, Chief Petty Officer. She spends much of her time in the program teaching and leading lower ranking members.
"Your first taste of leadership is Petty Officer Third Class, and when I look back [on that time] I was so different [than I am now]," Colley said. "I didn't have that experience of leading kids, making mistakes, getting yelled at. All the mistakes that I've made have helped me gain that experience, which turns into the confidence to get up in front of a whole battalion of kids and be able to lead them."
McGill joined the NSCC during his freshman year after finding out about the program from Colley. He now holds the rank of Petty Officer Third Class.
"[Justin] definitely has a lot of leadership qualities. He's so dedicated and has worked so hard throughout the program that his leadership qualities have come out even more since he's started,"  Justin's sister and junior Megan McGill said. "He's a good kid all around and cares about the people that he's in charge of and will do anything to make sure that they're okay."
When prospective cadets join the NSCC, they are first required to attend a two-week recruit training camp, which is modeled after the Navy's actual recruit training program. After they complete the camp, they become eligible to participate in advanced training sessions located all over the country. In addition to the training sessions, Colley and McGill participate in monthly drills at the Naval Operational Support Center Lehigh Valley.
In her time in the NSCC, Colley has participated in emergency medicine training, the Petty Officer Leadership Academy, and medical and field operations. In addition, she has staffed several recruit trainings and will staff the Petty Officer Leadership Academy this summer. Justin McGill has also participated in the Petty Officer Leadership Academy. This summer he will travel to Iowa for a field operations training session.
"Going on advanced training [is] really fun because you meet really cool people from all over," McGill said. "Just seeing how they come from different units but still have that ingrained sense of, 'I want to do something good for my country and I want to make an impact.'"
In the future, both Colley and McGill plan to use the training in their careers. Colley aims to get a Reserve Officers' Training Corps (ROTC) scholarship and attend Virginia Tech, where she will join the Corps of Cadets. After that, she would like to go to Infantry Officer school in the Army.
"[Tanner] takes initiative and enjoys overcoming challenging situations both mentally and physically and stepping outside her comfort zone," guidance counselor Ms. Christina Piascik said. "The program is a wonderful opportunity for students to gain exposure to the values of seamanship. Students grow as individuals and learn the importance of working in a team environment. The program also provides students with the motivation and encouragement to pursue their goals, as well as assistance in achieving them."
McGill plans to go to the Naval Academy in Annapolis, Maryland, or attend a NROTC program at a four-year college.
"I want to fly planes," McGill said. "That's my dream goal."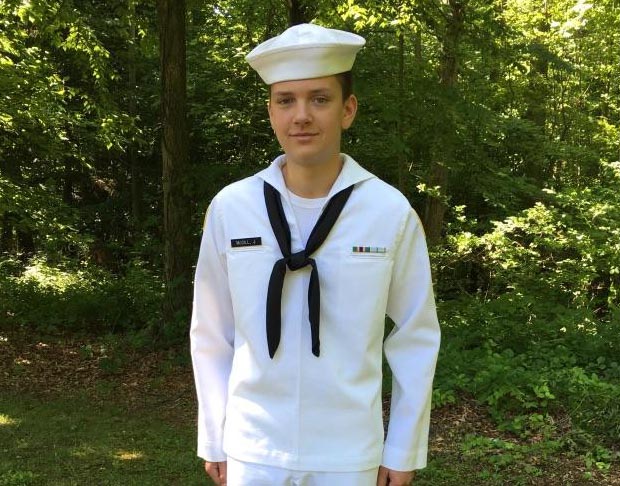 Justin McGill
Both Colley and McGill agree that the program has played a big part in their development as leaders and individuals, and in forming their future goals.  
"Military professionals teach the trainings, and hearing what they have to say is really cool," Colley said. "There's one mentor I have, she's a chief of the Navy, and she's taught me everything I know about leadership. I find myself thinking, 'I wonder what she would do,' when I'm in certain situations, whether it's in school or in a social setting."