Computers Take Over Traditional Textbooks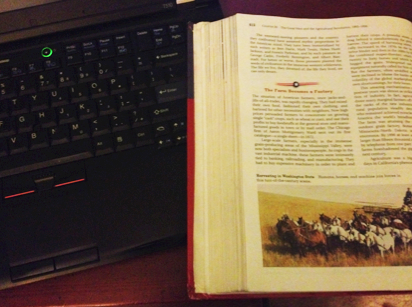 Hang on for a minute...we're trying to find some more stories you might like.
No more pencils! No more books! No more teachers' dirty looks!
This elementary school chant may soon need to be changed as computers are quickly taking over the role textbooks once played, but should they? According to this reporter: Yes.
"I think that [using computers is] a good idea because they're lighter, [and] they're easier to update, but they're more breakable than textbooks," freshman Robin Stayer said.
Computers can help students reach their objectives 30-80 percent faster, according to the US Department of Education and studies by the National Training and Simulation Association. When applying this to the classroom, this would mean going through laborious content more efficiently.
"It's more convenient because everyone pretty much has a computer," senior Gabby Dalope said.
In a world immersed in technology, learning on computers helps prepare students for jobs that would require basic technological knowledge. Everywhere is becoming more and more technology friendly. In fact, society is becoming technology-dependent; therefore, lacking these skills could make it more difficult for a student to get a job.
Although the world is becoming more technology friendly, not everyone has access to or supports this increase in the use of technology.
"Not everybody always has access to computers, and it can be kind of confusing," sophomore Maria Jimenez said.
Math teacher Mr. Lou Skrapits said the con to students using computers is "the urge to get off task."
Many of these distractions can be downloaded or are on a website. Even if one site is blocked, there will always be something else, from Cookie clickers to Cultris.
However, there are still students with good grades who like to goof off in their spare time. Although getting off task is tempting, many students can, and do, resist the temptation. Just not all of them.
Technical problems are another concern. For example, freshman Robin Stayer said textbooks don't always load onto the laptops.
When there is a technological problem with a computer, there are ways around this. Also, if the problem persists, having two days to do homework often solves this issue. There is time for students to get the problem fixed and the option to alert the teacher to the problem.
The solution? A slow take over. Investing in a better internet connection should be strongly considered, as well as systematically getting rid of old, outdated textbooks and replacing them with more updated online versions.
Even Mr. Skrapits agrees: "Technology, yup, I think that's where we're headed."

About the Writer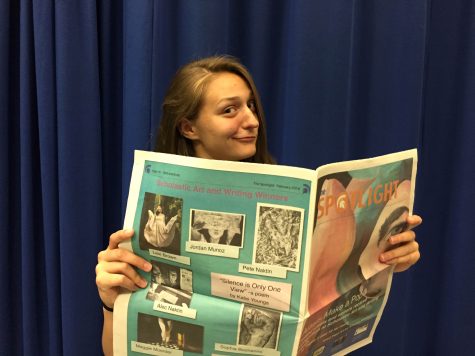 Allison Borelli, Features Editor
Allison Borelli graduates as a four-year Spotlight staff member. She has been a student reporter all four years, and features editor for two.

Outside...