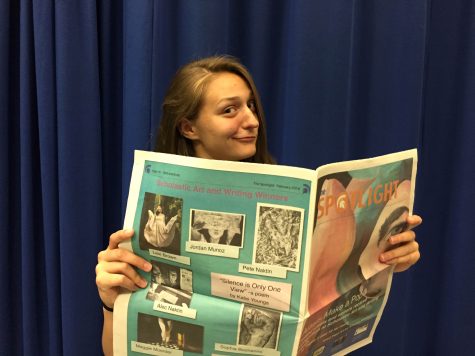 Allison Borelli graduates as a four-year Spotlight staff member. She has been a student reporter all four years, and features editor for two.
Outside of the Spotlight, Allison participated in teen counseling for three years, Key Club for one year, National Honor Society, Literary and Arts Club, soccer, and winter and spring track and field.
Allison's favorite classes during her time at Southern Lehigh were AP Environmental Science, Honors English 11, Creative Writing, and Newspaper Journalism.
Outside of school, she volunteers at her camp, and also has been involved with Betty Lou's Pantry.
After graduating, Allison plans to go to Northampton Community College for two years, and then transfer into a four-year college. Right now, she is only thinking about Villanova as an option. She plans to major in environmental science and minor in journalism. In the future, she is thinking about a career as a journalist who writes about the environment.
Allison believes being a member of the Spotlight has helped her narrow down her career choices and help her prioritize what she wants to do in the future. She is also grateful that the Spotlight has taught her valuable design skills and given her opportunities she would have never taken before.
"[It has made me] become a go getter." she said.
Allison's most notable moments of high school include being nominated for a soccer scholar athlete award representing Southern Lehigh, and advancing to states for the annual Pennsylvania School Press Association journalism competition.
Her proudest moment on the Spotlight is the first time one of her articles got published: "Minecraft: Fun Game or Educational Tool?" Allison's favorite memory during her time on the newspaper staff was staying at school until 9 p.m. with the other editors to finish putting together an issue.
Overall, Allison said her favorite part of high school was, "making the friends I have and going through life with my twin."
Her advice to high school students is to take advantage of their time because "junior year goes into turbo mode." She tells students to enjoy high school while they can and not to be afraid to take classes they like.
Allison's hilarious jokes and comments will surely be missed, and the Spotlight wishes her the best of luck in her future!
Follow Allison Borelli on twitter
@AllisonBorelli
Allison Borelli, Features Editor
May 24, 2017

Emerging Health Graduates Reflect on Program

(Story)

Apr 07, 2017

Dan Qian and the SparTechs Reign as Judges' Favorite

(Story/Media)

Apr 07, 2017

'We Were Here': A Great Free-to-play Puzzle Game

(Story)

Feb 23, 2017

Table Tennis and Lunch All At Once For SL Teachers

(Story/Media)

Dec 19, 2016

Riding to the Top With Spartan Cycling

(Story)

Nov 15, 2016

Southern Lehigh High School Addresses Issues of Acceptance and Diversity

(Story)

Oct 25, 2016

Art Teacher Mrs. Bathgate Returns to Alma Mater

(Media)

Oct 21, 2016

Say Hello (Again) to Mrs. Quartuch

(Media)

Oct 06, 2016

Southern Lehigh Welcomes First American Chinese Teacher, Mrs. Patricia Guock

(Story)

May 23, 2016

Teaching in China a Memorable Experience

(Story)

May 23, 2016

At the Speeds of Light, Drift Into 'Hyper Light Drifter'

(Story)

Apr 05, 2016

Speaking of Speech and Debate…

(Story)

Apr 01, 2016

Will Softball Sustain Success?

(Story/Media)

Feb 24, 2016

Oxen "free" Yourself of Twenty Dollars

(Story)

Feb 24, 2016

Dress to Impress in Southern Lehigh's Fashion Show

(Story)

Jan 12, 2016

Animal Rights Activists Visit Animals In Distress

(Story/Media)

Jan 11, 2016

Another Option Comes to Southern Lehigh's Cafeteria

(Story)

Nov 19, 2015

Computer Science Students Take 2nd Place at Regional Competition

(Story/Media)

Nov 19, 2015

From Mummies to Murals

(Story)

Nov 19, 2015

What's the Buzz About Bees?

(Story)

Oct 21, 2015

Welcome Health & PE Teacher Mr. Matt Hummel

(Story)

Mar 25, 2015

SparTechs: Southern Lehigh's Robotics Team

(Story)

Mar 24, 2015

Change Is Coming In Standardized Testing

(Story)

Feb 10, 2015

"Successorys" Reward Teacher Success

(Story)

Jan 07, 2015

Putting an End to Derogative Name Calling

(Story/Media)

Dec 04, 2014

Disconnect to Reconnect With CEI

(Story)

Feb 07, 2014

Computers Take Over Traditional Textbooks

(Story)

Nov 20, 2013

Minecraft: Fun Game or Educational Tool?

(Story)