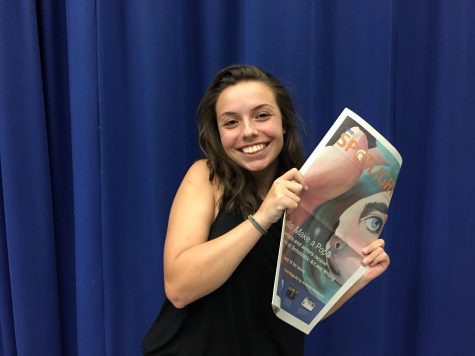 After serving as a staff reporter her freshman year, then taking a two-year break from the
Spotlight
,
Ashley Jann joined the newspaper staff once again for her senior year. 
"I want to go out with a bang," Jann said. "I got to go full circle."
Ashley has also participated throughout high school a member of the Key Club.
Before leaving to attend Delaware Valley University next fall, she plans to live it up for one last summer in Center Valley. Whether that be attending an abundance of graduation parties or enjoying herself at the Firefly Festival, she is sure to have a terrific time. Jann can often be found spending time with her friends, making them laugh with her enjoyable sense of humor. She thoroughly enjoys all animals, but most importantly dogs.
Once she gets to college, Ashley will work for her undergraduate degree in animal science, with an overarching goal of attending veterinary school and becoming a veterinarian.
"I've always wanted to be a veterinarian since I was eight years old," Jann said , "I've  always had a love and appreciation for animals."
She also has plans to travel to Italy, Thailand, and Germany before or after college.
Ashley says she will miss most her fellow classmates and reporters at the
Spotlight
.
"I learned how to prioritize in this class," she said. "When something had to get done I found a way to get it done."
Ashley Jann, Staff Reporter
May 24, 2017

AP Biology Students Compete in Biology Olympics

(Story)

Apr 07, 2017

Orchestra Students Achieve PMEA Regional Honors

(Story)

Feb 23, 2017

Bromances and Womances: Senorita Jessica Swartz and Madame Kaytlyn Byers

(Story/Media)

Feb 21, 2017

Ed Sheeran's New Tracks are "Sheer" Brilliance

(Story)

Jan 04, 2017

LCCC Tackles Drug Awareness in Lehigh County

(Story)

Oct 26, 2016
Oct 26, 2016

Go Home Freshmen: Custom or Cruelty?

(Story)

May 07, 2014

Too Many Animals Alone and Without a Home

(Story)

Feb 27, 2014

Reporting Bullying is the Key to Consequence

(Story)

Oct 07, 2013

Homecoming Week Brings New Mascot, New Hosts, New Pep Rally

(Story)