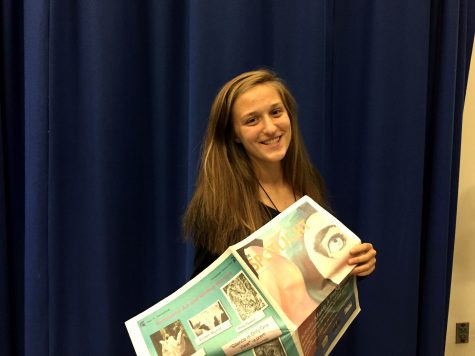 Rachael Borelli began her senior year as a first-year staff reporter, but finished it as one of the co-editors of the opinion section. Just as quickly as her Spotlight staff career began, it ihas come to a close as she prepares to begin the next chapter of her life in college.
As a member of the Spotlight staff, Rachael covered everything from the school play, to global warming, to opinion articles where she expressed commonly held sentiments among the student body.  
During her time in high school, Rachael was also a member of the soccer team where she has been on the varsity squad since her freshman year. Her fond soccer memories span all the way from pasta parties to sleepovers where she truly got to enjoy the bond of being a part of a team and accomplishing something together.
"I really enjoy the sport," she said. "Getting to know the girls on the team has been a pleasure, everyone's nice. Also, the coaches are great."
As she recounts what she has learned over the last four years, she said, "go to your limit and then break it."
Rachael plans to attend Northampton Community College for two years before transferring to a four-year university to finish her degree. She plans to major in psychology, barring any significant changes to her interests over the next couple of years. She became interested in psychology through her interest in how people act as well as what she learned in AP Psychology.
"Honestly, I find people kind of interesting. So I guess high school has kind of given me an opportunity, it sounds kind of creepy, but to see people interact," Borelli said, "I get to see posturing and how people behave in different situations or how people think and their thought process."
Wherever the path of Rachael's life leads her, a few constants will remain. She'll still be watching her favorite movie, "Deadpool," and jamming out to her favorite song "Mr. Man"
by Stephen as she beats the next level of her video game of choice, "Don't Starve."
But she will always carry the lessons she learned throughout her high school experience with her.
"Apply yourself so you can figure out what you do and don't like, because if you try your hardest, you'll always have the purest result of emotion because you'll know you've tried hard and you won't have any regrets later on," Borelli said. "You won't be like, 'oh I wish I would've tried harder that year and gotten better grades because I could have, or I wish I didn't underachieve.'"
Rachael Borelli, Opinion Co-Editor
May 24, 2017

Chechen Authorities Abduct 100 Gay Men in Surprise Round-Up

(Story)

Apr 07, 2017

Solehi's 'Sister Act' Delights Audience with Comedic Genius

(Story)

Feb 23, 2017

2016 Sets Record as Hottest Year

(Story)

Feb 21, 2017

Literary & Arts Club Hosts First Ever Coffee House

(Story/Media)

Dec 20, 2016

Need for LightSpeed?

(Story)

Oct 21, 2016

Say Hello (Again) to Mrs. Quartuch

(Story)