Animal Rights Activists Visit Animals In Distress
Hang on for a minute...we're trying to find some more stories you might like.
Southern Lehigh's own Animal Rights Activist club, or ARA, is dedicated to sharing the message of animal rights, as well as volunteering with organizations in the community. The club's recent expedition to a local shelter, Animals In Distress, is not the only way they'll be helping.
"I expected to show up and take a tour, and it was much better than that," sophomore and Animal Rights Activist Volunteer Director Emma Duane said. "We got a lot of really, really awesome information from amazing people and we got to interact with animals, which is really, really fun."
The student run Animal Rights Activist club has very recently made small strides in the world of animal rights activism. On January 9, the club visited Animals In Distress with the goal of helping out and hopefully inspiring its own members to volunteer at the shelter.
"Our initiative is we provide great connections and volunteer networks all through the Lehigh Valley to animal organizations," junior and founder of the ARA Ise Oberlender said. "We are educating, we are volunteering, and we are also trying to provide awareness in our school."
Animals In Distress, also known as AID, is a no-kill shelter, keeping every cat and dog despite being an animal that may be unwanted, old or injured. AID provides food, shelter, rehabilitation, medical care, behavioral rehabilitation, as well as love until a suitable home can be found. Since AID is a non-profit organization, it relies heavily on unpaid volunteers, donations, and fundraisers to operate.
"I want to help cats, because they've had really traumatized lives, so I know that interaction with people makes them feel more at home," sophomore and ARA Social Media Director Sean Duane said. "I've always had a really deep love for animals, and I think that I can portray that through this experience."
The goals of ARA are mainly to educate members and the community on animal rights issues. They seek to provide volunteer opportunities at shelters, and also to help out by hosting fundraisers and drives. On January 30, they plan to visit Grass Mountain Ranch in Whitehall.  
"I'm learning a lot more than I thought I would," Emma Duane said. "I've been exposed to things that I never thought that I would ever learn, or ever watch on my own time. So it's really educating and it's awesome."
Oberlender thought of the idea for the club last February. She is currently the President of the club, which is advised by Spanish teacher Ms. Joan Imms-Geiser.
"Admittedly, I'm personally not an animal rights activist. Yet I believe in supporting students in the pursuit of their passions," Ms. Imms-Geiser said. "I do like listening to what they talk about; I find it informative. And if I feel so inspired, I chime in from time to time."
The Animal Rights Activist club has their own website (a link to which can be found on Ms. Imms' web page) as well as their own twitter (@SL_ARA). They meet in Room 184 on day four during spartan period. To join, contact Ms. Imms or talk to Ise Oberlender.
"We're not PETA. People have really negative connotations of very radical animal rights groups. I am trying my best to kind of give a little bit more of a moderate view, and kind of letting people make their own decisions," Oberlender said. "It's really just going to educate yourself and open yourself up to new ideas, and to go spend 45 minutes of your day caring about something."

About the Contributor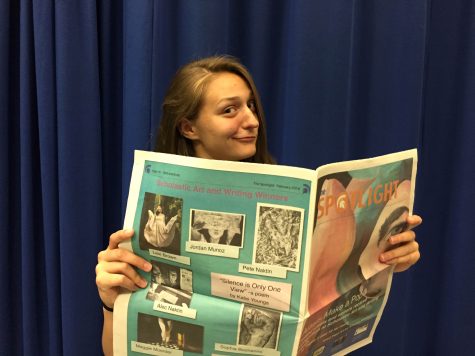 Allison Borelli, Features Editor
Allison Borelli graduates as a four-year Spotlight staff member. She has been a student reporter all four years, and features editor for two.

Outside...