187 Rue Principale Serves Up Classic French Cuisine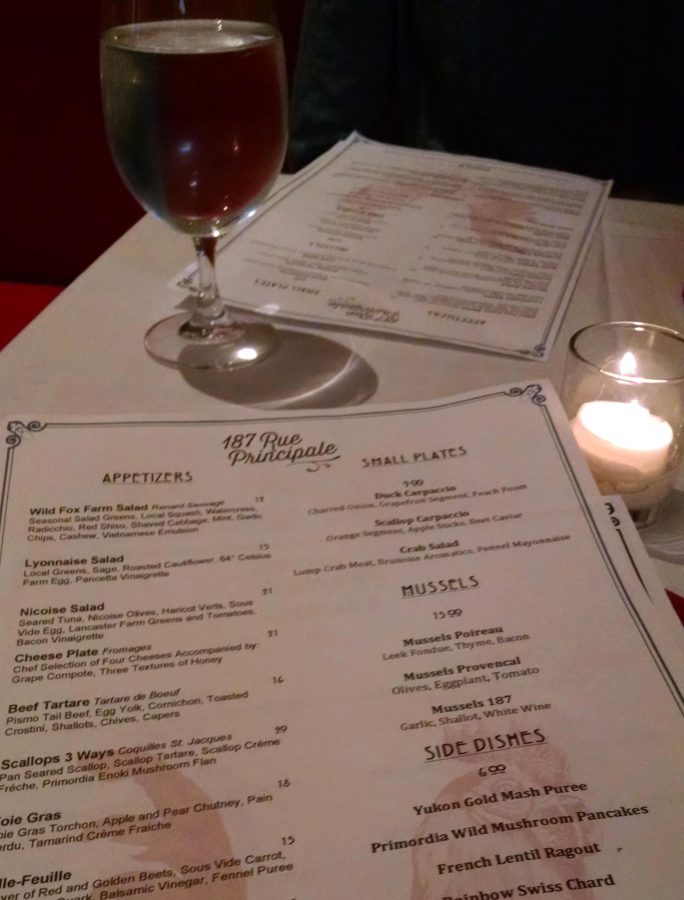 When most people think of French cuisine, the first thing that comes to mind are frog legs and snails, but the food served at 187 Rue Principale is anything but slimy.
This French restaurant is located in the downtown portion of Emmaus. The name 187 Rue Principale translates to "187 Main Street" in English, which is exactly where it is located. This area is lovely to walk around in if you are looking to pass some time before or after you eat.
Founded in 2014, 187 Rue Principale claims to be both modern and farm-to-table. They also offer outdoor, or "al fresco," dining for the warmer months and brunch during all days of the week. In 2015, they won the OpenTable™ Diners' Choice Award.
The restaurant is open Tuesday through Saturday from 8:00 a.m. to 9:30 p.m., offering brunch through dinner. The hours for Sunday and Monday are 8 a.m to 3 p.m., meaning that only brunch and lunch are served.
My dining partner, sophomore Jessica Leight, and I decided to give French food a try on Friday, November 18. While peering through the glass windows, the restaurant appeared to be empty. The vacancy was quite alarming for a Friday night, but tables began to fill later in the evening.
Red, black, and white decor gave off a contemporary flair. I have never been to Paris, but it sure felt like 187 Rue Principale was a tiny slice of it, like the kind of authentic restaurant you would find on the corner of a street.
I was definitely glad to see things that weren't totally obscure on the menu. The menu was extremely small, so if you're a picky eater, you might have a hard time finding something you like. There were no more than ten main dishes, but they do offer seasonal specials.
"People think [French food] is small portions," French teacher Madame Byers said. "I'd say that they think it's complicated too. They don't understand what is in French food. It's usually basic, old fashioned recipes, like stew."
I decided to order Coq au Vin, or in English "chicken with wine sauce." On the menu, it was described as, "Leg and Breast of Chicken, Pearl Onion, Pancetta baton, primordia crimini, Sourdough Baguette, summer carrots, Red Wine jus." This chicken dish was one of their more moderately priced meals at $25. Leight ordered Omble Chevalier, or "seared char," which was $29. The entrees were priced between $25 and $45.
The service was a bit slow, but we were delightfully surprised with some sampling during the wait. We were first brought out caviar and lobster frittata. A frittata is a type of egg quiche, but ours was served cold. I'd never had anything like a frittata before, and it was buttery in texture.
Later into the night, we were served some sourdough bread. I suggest that you don't order appetizers if you decide to go because you are served so many samplings throughout the night. If you did end up getting appetizers, odds are you will be stuffed before your meal.
Finally our meals came. At first glance, the meals were beautifully arranged. Leight's fish plate was the most impressive; the generously-sized piece of char was laid on a bed of lentils.
"I enjoyed the presentation of the meal the most," Leight said. "I typically wouldn't go for a fish entree. And it was good, but I don't think I would order it again. There were too many lentils for me."
Though 187 Rue Principale may be on the more expensive side for high school students, the portions are very adequate. I was especially impressed with the quality of the chicken and other vegetables in my "Coq au Vin." The whole farm-to-table claim was completely accurate! Some of their local partners are Pappy's Orchard and Bakery, Lancaster Farm Fresh Cooperative, and Quiet Creek Farm.
We were pretty full by the time we were offered the dessert menus, but Jessica and I both knew that we had to take one for the team and try some dessert. We settled on a poached pear crepe, which was $10.
It was plenty big for the two of us to share. It can be pretty easy to overcook a crepe, but this one was just slightly crisped and caramelized on the outside. It wasn't overly sweet, and it was sprinkled with volcanic sea salt and star anise caramel. The salt enhanced the flavor and was the perfect contrast to the sweet caramel.
Jessica and I both paid around $35 for our meals, not including a drink. If you are considering 187 Rue Principale, expect to pay this much for dinner at least.
One of the best things about this restaurant is that tipping is not required. It is a custom is France, and many other countries to not mandate a gratuity.
"[In France] tipping is not required," Madame Byers said. "It's included in the price of the food. 'Le service est compris' means the service is included."
Overall, I recommend 187 Rue Principale for anyone who is willing to spend a little extra money for a special event or date. The extra few bucks go a long way because 187 Rue Principale takes the extra step to make your night enjoyable and worthwhile. If you are bored of the same-old-same-old, take a chance and try French food!
About the Contributor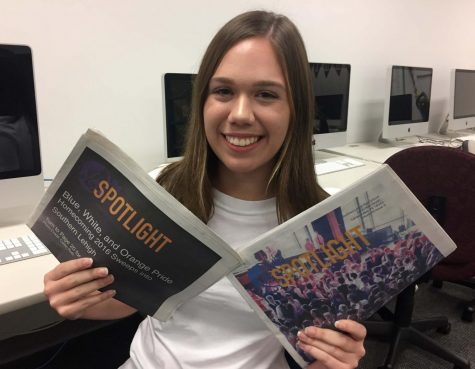 Bridgette Lang, Opinion & Our World Editor
Senior Bridgette Lang is a third-year staff reporter and former features editor, now serving as opinion and our world editor for the Spotlight. In addition,...