Playa Bowls Brings a Bit of Beach to Bethlehem
Driving down 3rd Street in Bethlehem on a Saturday, it's hard to hear yourself think. There is commotion everywhere, mostly stemming from a small little restaurant that slightly resembles a tiki hut. This beachy joint called Playa Bowls has finally landed itself in the Lehigh Valley after four years of successful business all around New Jersey.
The chain restaurant was first established on the Jersey Shore four years ago, hence the summery feel. I visited the location in Bethlehem, which is laid out with an open floor plan that allows customers to see their food being made. Picture it like a Subway on the beach, but instead of processed meats behind the counter, there are fresh fruits. The restaurant contains an actual tiki hut, complete with a ping pong table and beach chairs. Tied to the rafters are a plethora of surf boards, which helps set the tone of the beachy atmosphere. Residing in the back corner of the restaurant is a hammock along with a chair swing.
The menu features their iconic açaí bowls, which has become this restaurant chain's signature. Harvested from South Africa, açaí berries are high in antioxidants, which is why Playa Bowls uses them to promote a healthy lifestyle. There are also plenty of other types of bowls, including the pitaya, oatmeal, and coconut. Complementing the bowls are an assortment of smoothies and juices, each made right in front of your eyes.
I ordered the Matcha smoothie, and my dining partner ordered the Açaí Energy smoothie. Both cost $7, with prices going as high as $11 for some types of bowls. The Matcha was a combination of green tea, banana, pineapple, and coconut milk; and the Açaí Energy consisted of açaí berries, banana, strawberry, apple juice, and coconut milk.
Before I give you my view on the smoothies, I would like to make it clear that I typically don't eat on the healthier side. I eat an apple every now and then, but that is the extent of my healthy eating. That being said, I thoroughly enjoyed both smoothies, with my preference being the Matcha.
They were refreshing and delicious, and surprisingly filling. I ordered a 16 ounce cup, and I was sufficiently full after drinking it all. I was astounded by the great taste of the Matcha. Judging from my personal bias that all healthy food tastes like grass, and the sight of a grotesque green liquid in my cup, I was not expecting something so delicious.
Overall, I would say that Playa Bowls has made a great impact on the Lehigh Valley. Close to many college campuses and high schools, it provides a quick healthy option for students, though it is a little on the expensive side of things. If you are willing to make the trek into Bethlehem to dine at Playa Bowls, you will most definitely be pleased with your experience. I left the restaurant with a full stomach and the thought of the Jersey Shore in my head.
About the Writer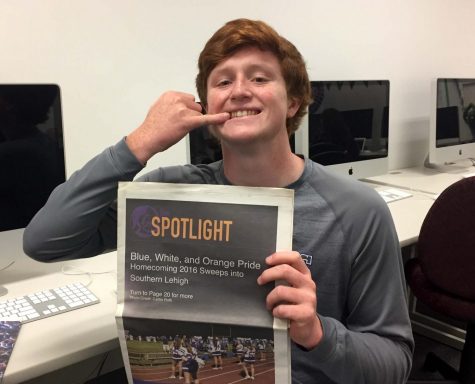 Quinn Schmidt, Sports & Entertainment Editor
Senior Quinn Schmidt is a third-year  staff reporter and second-year entertainment editor for the Spotlight. This year he also stepped up to fill the...