'Star Wars' Flies High, But Not High Enough
Hang on for a minute...we're trying to find some more stories you might like.
A hush falls over the theater, and the air is filled with the thrill of anticipation. This brief moment of silence is immediately followed by the fanfare of the traditional opening title scroll of a "Star Wars" film, and many cheers erupt from all over the theater. The beginning of the eighth installment in the "Star Wars" franchise, "Star Wars: The Last Jedi," filled moviegoers with excitement and hope. However, when the lights in the theater switched back on at the end of the film, a different, more uncertain feeling permeated the room.
The film takes place directly after the closing of episode seven, "Star Wars: The Force Awakens," with Rey standing on a cliff side holding out Luke Skywalker's lightsaber towards him. She has come to convince him to join the Resistance once again in their fight against Kylo Ren, a former student of his, and the First Order. Their difference in opinion on the Jedi way quickly becomes an obstacle in their relationship, and it seems the entirety of the Jedi religion hangs in the balance. Meanwhile, the Resistance is locked into battle with the First Order in a perilous fight for freedom.
Overall, the film was enjoyable. Even when viewing what I consider to be the worst movies in the franchise, I am nonetheless still enthralled in the "Star Wars" universe. If I were to take the movies for face value, then I would find every one of them nothing less than stunning. However, I find myself completely unable to do so, as this movie posed some problems for me.
The first problem is the number of storylines the viewer needs to follow. The film has three main storylines, and as a person who finds myself relatively easily distracted on a day to day basis, this is a problem.
I was also frustrated with Luke Skywalker's character, who I've spent nearly my entire life watching. Throughout my years of "Star Wars" obsession, I've discovered several things about Luke's character to be true: he never gives up, he fights for what he believes in, and he does what needs to be done for the greater good. Through watching "The Last Jedi," I saw many of these traits crumble to reveal a grumpy old man who ran away from his problems rather than face them. I felt as if an entirely different man was being portrayed, and the actor who plays Skywalker, Mark Hamill, shared similar sentiments on the press junket for the movie.
"I, at one point, had to say to Rian, 'I pretty much fundamentally disagree with every choice you've made for this character," said Mark Hamill to Vanity Fair in an interview, "Now, having said that, I have gotten it off my chest, and my job now is to take what you've created and do my best to realize your vision.' "
Despite some of the film's shortcomings, I felt that Daisy Ridley's character, Rey, was well done. The young Jedi's inner struggle between light and dark as she developed her skills with the force was well illustrated. Her struggle also provided a perfect parallel for Kylo Ren's much older struggle first seen in the movie prior.
"Star Wars: The Last Jedi" proves to be an entertaining movie, but as a viewer, I'm looking for more than just entertainment. Solid character development and a well thought out plot are crucial to any good storyline, and "The Last Jedi" was lacking in both of these areas. A common saying is to "aim for the moon, and you'll land among the stars," but writer and director Rian Johnson merely aimed for mediocrity, and that's exactly what he got.

About the Writer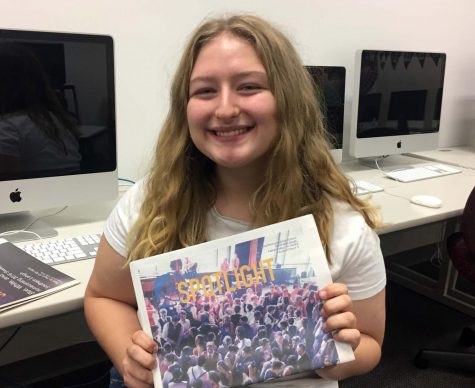 Sarah Jacobson, Editor-in-Chief
Senior Sarah Jacobson is a third-year staff reporter, former Our World editor, and current Editor-in-Chief of the Spotlight. She is also the head of social...