Buying Time to Release New Album
Hang on for a minute...we're trying to find some more stories you might like.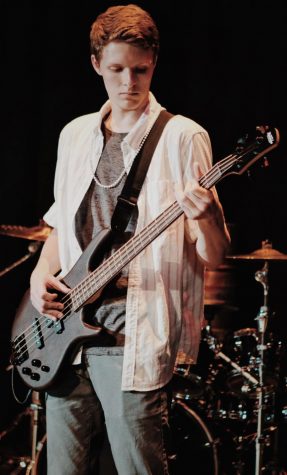 Ashley Lee
In Southern Lehigh history, many attempts have been made to claim the title of best high school music group. Bands such as The Droogs have produced some questionable music, and we have also seen countless Soundcloud rappers try to make it big. While most of these groups encounter the typical problem that most high school bands face — the peculiar bonds (or lack thereof) the groups form — three current seniors, Nate Morris, Luke Strauss, and Ben Forster, have joined musical talents with former students Noah Crowley and Mitch DeCasere, and the outcome has been exceptional.
The group is called Buying Time, one of the most premier bands to ever roam the halls of Southern Lehigh High School. Buying Time's roots are interesting, as the group's original founder is no longer in the band. The ensemble began as the trio of Morris, Strauss and fellow senior Ben Muth who proposed the idea of starting a band back in sophomore year. The entire idea was based off of Muth purchasing and learning how to play the bass guitar. However, he never got around to buying the guitar originally intended. Luckily enough, another Ben stepped up to take his spot. With Forster on bass, Strauss on the drums, and Morris as the lead singer and guitarist, they were all playing in their secondary positions.
"We decided it would be a lot of work because I would have to sing and play guitar, and Luke is better at piano than he is drums," Morris said. "So, we found Mitch and Noah because we knew they were both really good at what they do."
After recruiting DeCasere to play drums and Crowley to play guitar, they bonded together for two years, they are currently in the process of perfecting their new album to be released by the start of summer 2018. They have already entertained the audiences of multiple Southern Lehigh events, the largest crowds being last year's Mini-Thon and Jamalot for Camelot.
Although Buying Time is musically above where the average high school band tends to fall, it's the togetherness that has made them the successful band that they are today.
"My favorite part of this is just hanging with the boys and jammin'. I love music: I love playing music, listening to music, so there's nothing like getting to play some of your favorite covers and writing songs," Strauss said. "It's definitely a passion of mine, so I love that I can share that passion with a bunch of my friends."
It is this cohesive relationship that has led Buying Time to achieve success in the musical sphere and verify themselves as legitimate musicians, something only one other Southern Lehigh band has done. They don't look to be slowing down anytime soon. With an album and a performance on the horizon, we could be hearing about Buying Time for years to come.

About the Writer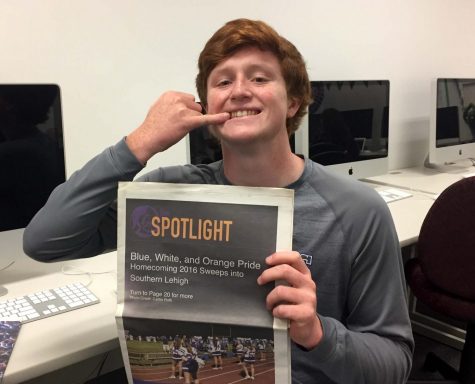 Quinn Schmidt, Sports & Entertainment Editor
Senior Quinn Schmidt is a third-year  staff reporter and second-year entertainment editor for the Spotlight. This year he also stepped up to fill the...