An Abrupt Change Works Out for The 1975
Hang on for a minute...we're trying to find some more stories you might like.
Switching from one genre to the next can kill an artist's fanbase and general appeal. It's not very often that bands choose to go through self-induced periods of musical alteration, but change is something that The 1975 has welcomed with opened arms. For The 1975, releasing their third studio album, "A Brief Inquiry into Online Relationships," marked their third era.
The Manchester quartet was formed in 2002, when lead singer Matty Healy, guitarist Adam Hann, bassist Ross MacDonald, and drummer George Daniel met in high school. Previously performing under the name Drive Like I Do, the band experimented with covers.
Before releasing the newest album on November 30, 2018, the band ventured into the pop, bubblegum pink realm of "I Like It When You Sleep, for You Are So Beautiful Yet So Unaware of It" and the first era of their self-titled album. When the band initially entered the charts with their debut, they were known by critics for their darker, edgier sound. The 1975 gained masses through the social media site Tumblr for their unique synth rock and 80's pop fusion.
For their second release, "I Like It When You Sleep…," they eclectically amped up the 80's pop factor. It was certified as Platinum in the U.K. and Gold in the United States.
"A Brief Inquiry into Online Relationships" (ABIIOR) was teased during July 2017, when The 1975 used their Instagram page to post a video. In the video, the pink lightbox, associated with their previous era, flickered out. Fans immediately knew that change was upon them.
Nearly two years after releasing "I Like It When You Sleep…," the new album was officially announced in April 2018. It wasn't until a year later that they released their first single from ABIIOR, "Give Yourself a Try."
ABIIOR is completely a concept album. The tracks dive into the problems that modern society faces with a hint of ridicule. Compared to The 1975's previous work, the new sound varies with each track, but the majority of songs retain pop, rock, and jazz influences. Overall, the album explores deeper themes than the previous.
The first single off of the album, "Give Yourself a Try," did not seem promising to me at first. Infact, it was really hard to even give the song a try. Five seconds in, I was distracted with the overly-repetitive guitar riff in the background that washed out all the lyrics and other instruments.
After listening repeatedly, I learned to tune out monotonous noise to hear the lyrics. Healy recalls the struggles of growing older (well, not elderly-old, but aging-through-your-20's type of old): "I found a grey hair in one of my suits / like context in a modern debate I just took it out."
Out of the five singles released, I was the most impressed with "Love It If We Made It." Though I find it slightly unimaginative to say that a single is my favorite song off of the album, "Love It If We Made It" is without a doubt the song of 2018.
It spins the tale of the political environment abroad, and then hones in on the United States and our presidency. The lyrics use direct quotes from President Trump: "'I moved on her like a b—-!' / Excited to be indicted / Unrequited house with seven pools / 'Thank you Kanye, very cool!'" If you are confused by any of the cultural references, the music video goes through pictures and film that inspired the named grievances.
"Love It If We Made It" was named the number one track of the year by The New York Times and Pitchfork. Overall, the album received mostly positive reviews from critics and was named "Album of the Year" by NME. Pitchfork described ABIIOR as, "similar to its predecessor in its boundless sense of style, swerving from Afrobeats to brushed-snare jazz balladry to one track that sounds like a trap remix of a Bon Iver ayahuasca trip."
"TOOTIMETOOTIMETOOTIME" was the only track on the album that relied on an additional outside producer: No Rome. Before announcing that he would open for their tour, No Rome was busy at work collaborating with the band. It is evident that "TOOTIMETOOTIMETOOTIME" was heavily influenced by Rome Gomez's experimental use of bass and drum kits. No Rome, who is now signed to the same record deal as The 1975, also helped to write the track and provided backup vocals.
In an interview, Healy explained that this third era that included ABIIOR would extend to their next album, "Notes on a Conditional Form." The next album is scheduled to release in May 2019.
About the Contributors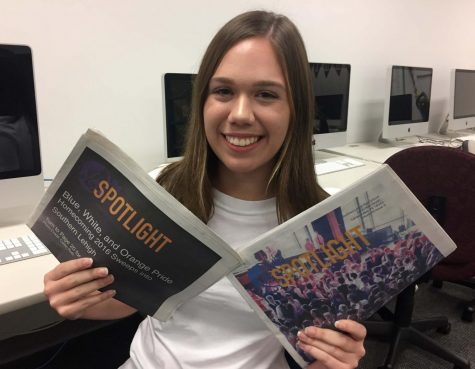 Bridgette Lang, Opinion & Our World Editor
Senior Bridgette Lang is a third-year staff reporter and former features editor, now serving as opinion and our world editor for the Spotlight. In addition,...