"Moulin Rouge" Can-Cans to Popularity
"If they don't perform Lady Marmalade, I will respectfully lose my mind," I said to my mom as we made our way through through the Al Hirschfeld Theatre and up to our seats in the mezzanine. The scene that unfolded before will be in my memory forever: the historic theatre was transformed into a classy, French nightclub, every inch of space glowing in dazzling red light. Suddenly, the theatre went dark, four bedazzled dancers appeared on stage, and the guitar riff of "Lady Marmalade" tore through the theater. Immediately, I became lost in awe.
The stage adaptation of the 2001 hit movie musical "Moulin Rouge!" opened this past summer on Broadway to mixed expectations.
The plot is the same as Baz Luhrmann's spectacular film. Christian (Aaron Tveit) plays Christian, a young Englishman in 1899 Paris, who falls in love with Satine (Karen Olivo), a singer at the Moulin Rouge. Unfortunately, a club manager has promised Satine to a Duke in return for money for his next production. The young lovers continue their affair in secret as Satine's wedding day draws closer, but she hides a fatal secret from both Christian and the Duke.
"Moulin Rouge" is as flashy and bedazzled as any fantastical Gatsby party. The jukebox musical is packed with energy-filled, intense dance numbers and catchy pop songs. In the case of "Moulin Rouge," those acts include Beyoncé, Rihanna, Lorde, fun., Katy Perry, Lady Gaga, Britney Spears, Talking Heads, and the Eurythmics.
Think the sexy aspects of Chicago meets the song mashups of Pitch Perfect. The musical is as risqué as expected from a nightclub in early 20th century France but also includes today's pop hits.
Even if you have never seen the movie, most of the songs were easily recognizable even if the initial sound of the song was changed, the lyrics and basic melody stayed the same. There is a funky dark twist to Sia's "Chandelier." P!nk's "Raise Your Glass" and Whitney Houston's "I Wanna Dance With Somebody," combined to set a party scene.
During intermission, I remember texting my friend that I never thought I would hear Aaron Tveit sing "Shut Up and Dance" live. And it only got better. The best part of the musical was Aaron Tveit's performance of "Rolling in the Deep", as he built up the song only for his voice to become soft and beautiful. I could go on for days about how much I love him.
Unlike traditional broadway shows like "Les Miserables" or "Phantom of the Opera," "Moulin Rouge" doesn't aim to be especially dark or sentimental. In fact, I can't think of a more spine tingling adjective to describe the musical besides "fun." It was fun like prom, homecoming, or any other party with 2015 pop hits blaring through the speakers.
The only problem is that there wasn't much of a deep, heart wrenching story. As much as I love Aaron Tveit's and Karen Olivo's voices, they had barely any chemistry and their relationship was just awkward. During the scenes where their connection needed to be lovely and romantic, it was as awkward as a middle school relationship.
The highlight of the show was definitely the music, since it is already well known to the common listener. Every time a recognizable song began, the audience would break out in giggles because the timing was almost satirical. To the hard-edged Broadway critic, "Moulin Rouge" is nothing more than a shameless glitter bomb on stage, but to the younger generation who loves the movie and the songs, it is entertaining experience that is bound to leave you with "Lady Marmalade" stuck in your head for days.
About the Contributor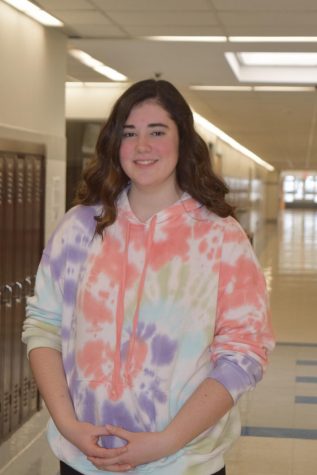 Kate Miller, Sports Editor
Senior Kate Miller is a first-year staff reporter and sports editor. Outside of the newsroom, she is involved in spartan ambassadors, teen counseling,...