'How to With John Wilson' is Charmingly Human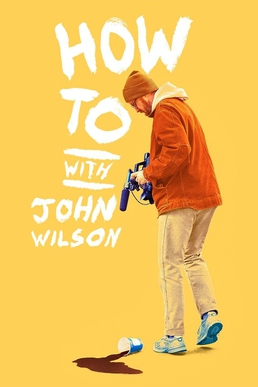 Despite the show's title, HBO Max's "How to With John Wilson" contains surprisingly little footage of its lead. Instead, the show is structured so that the viewer only sees the world through the lens of Wilson's camera. But this lack of visuals doesn't stop viewers from being amused by the show's coincidentally vulnerable shots and narrations. While it's hard to place into a single box or genre, "How to With John Wilson" offers a lovely catharsis for anyone who finds meaning in the mundane. 
In the show, filmmaker John Wilson wanders around New York with his camera, filming people and scenes that he finds interesting. The narration then weaves seemingly meaningless shots into a larger storyline centered on a tutorial, such as "How to Make Small Talk." 
Often, that tutorial feels more like a therapy session, as Wilson shares advice on topics that he himself can't seem to figure out. While this would normally seem alarming, Wilson's stilted, Ira Glass-ian narration style makes the tales endearing instead. Even when the mission of the episode isn't quite achieved, Wilson still succeeds in unveiling the vulnerabilities we repress to hold them up to the light. 
The show was filmed and narrated entirely by Wilson as early as 2018, making most episodes a tad dated in COVID times, while the shaky docuseries-style footage creates an aesthetic reminiscent of a student film. So far, the show has been a hit, with an 100% audience and critic rating on Rotten Tomatoes. Given how unique and experimental the show is, it's difficult to pinpoint exactly what makes it so special. 
But it seems like the people John meets are the ones who carry the most spark, as Wilson's anxious conversations ultimately lead him into unpredictable company. In one episode, John meets a heavyweight champion who catches predators on the side, and in the very same episode, he meets a drunk party animal with an unusually depressing backstory. The diversity of subjects in the docuseries is fascinating, as Wilson's uncomfortable aura gives strangers the urge to open up to him.
In terms of inspiration, "How to with John Wilson " was executively produced by Nathan Fielder, star of Comedy Central's hit series "Nathan for You." This is no surprise, as the rhythm of Wilson's show clearly resembles its predecessor. Both capitalize off of discomfort-fueled humor, showing us just how far people go when given the prospect of being on television. Additionally, both Fielder and Wilson play caricatures of themselves in their respective programs. But alas, these similarities don't stop "How to With John Wilson" from standing on its own two feet. 
In an age where most media seems more of the same, John Wilson offers a refreshing perspective to the table. It's fair to say that the niche qualities of the show may be overwhelming to some audiences. But the relatability of the topics, from "How to Split the Bill" to "How to Cover Your Furniture," work to balance out that quirkiness. 
Honestly, it's hard to imagine someone who wouldn't enjoy this show. With poignant commentary, coincidental adventures, immature and clever humor alike, "How to With John Wilson" truly has something for everyone.