"The Impossible": It's impossible not to tear up during this movie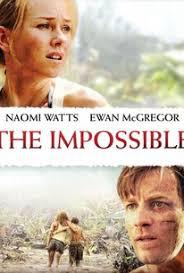 "The Impossible" is an eye-opening movie based on the true story of María Belón, who along with her family of five embarked on a December vacation to Thailand when tragedy hit in the form of the 2004 Indian Ocean tsunami, which devastated the resort and surrounding areas. 
The movie captures the fear and pain of the Bennet family during this tragic, life changing event.
 Following the tsunami, the eldest son, Lucas (played by Tom Holland), and his mother, Maria (played by Naomi Watts), emerge from the water, torn from their family by 100-foot tall waves. Maria and Lucas sit in their pain for hours while they are dragged to the hospital. The weight of realizing the rest of their family may still be out in the ruins, or even worse, dead, puts a gloomy fog over the movie as the survivors hold onto life by a thread. 
I advise anyone sensitive to blood to not watch, as some of these scenes are gruesome. The filmmakers certainly did not sugar coat anything, keeping watchers engaged and invested in Lucas and his family, dragging me by the wrist out of my comfortable bedroom and along-side the family's pain, grief, and bravery. 
"The Impossible" tugs on your heart string and will bring even the toughest moviegoers to tears. It sheds light on just one historic event which we haven't lived through, but have affected lots of lives. 
The cast of the 2012 movie includes Naomi Watts, Ewan McGregor, and young Tom Holland. It was directed by J. A. Bayona and written by Sergio G, Sánchez. Watts' portrayal of the mother's grief, sickness, and pain led her to Golden Globe and Academy Award wins for best actress.
"The Impossible" is available for streaming on Netflix, Amazon Prime, and Apple TV.