'Ma Rainey's Black Bottom' provides emotional, and complex storytelling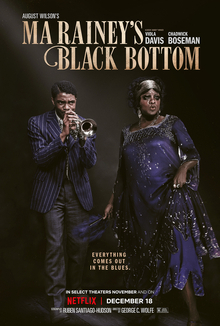 Netflix's "Ma Rainey's Black Bottom" does not have thrilling action sequences or humorous moments. It leads you on, carefully building a subtle and emotional story, and finishes with a rattling resolution that will leave you shaken.
"Ma Rainey's Black Bottom" is an adaptation of the 1982 play of the same name by acclaimed playwright August Wilson. The play is based on the real Ma Rainey, dubbed "The Mother of Blues." The film stars Viola Davis as the peculiar Ma Rainey, and Chadwick Boseman as the volatile trumpeter Levee Green. The movie is also dedicated to Boseman, as this is his final film appearance after succumbing to colon cancer last August.
Davis and Boseman were nominated for Best Actress and Best Actor at the recent Academy Awards ceremony, neither winning in their categories. The film was also nominated for Best Production Design and won both Best Makeup and Hairstyling and Best Costume Design.
"Ma Rainey's Black Bottom" tells the story of a tumultuous recording session by Ma Rainey and her accompanying band. It dramatically portrays themes of racism and pride, complete with distinct personalities that mesh well to complete the short yet tragic story.
As is often found in August Wilson's plays, there are several profound monologues in "Ma Rainey's Black Bottom." The young, hot-headed trumpet talent Levee dramatically recounts a traumatic childhood tale of a home invasion by a group of white men who attack his mother and slash him across the chest with a knife. He explains how he understands his place in the world as a struggling black man and asserts that he can navigate the "world of the white man." Levee has the longest monologue of any character, and Boseman delivers it with easily the best performance in the film.
Shortly after, the wise and pragmatic Toledo, also the oldest member of the band, gives his monologue, featuring a profound analogy for racism. Over his own melancholy piano, he explains that Black people in America are a "stew," in that a stew has many different ingredients, and African-Americans come from many different African cultures and tribes. However, he ends with a cynical tone, saying that "the colored man is the leftovers," equating himself and his bandmates to the unwanted stew that society seems not to want or like. In an eerie manner, the scene ends as Toledo lifts his fingers off the piano and laughs to himself.
As indicated by its Oscar wins, the makeup, hairstyling, and costume design in the film are another reason to love it. Ma Rainey wears an elegant yellow dress with bright red lipstick, heavy eye shadow, and a substantial amount of red blush. The accompanying band appears in fully formal attire, with some wrinkles and wear from extensive use. To me, the attention to detail and historical accuracy of the costumes and makeup immerse the audience in the story.
However, the standout feature of the film would have to be the performances. Viola Davis excellently encapsulates the eccentric Ma Rainey, with her striking tone and actions setting her apart from the cast. In my opinion, though, Chadwick Boseman is the real star of the show. Levee is a particularly complex character who evolves very quickly throughout the movie, but Boseman's performances in "Ma Rainey's Black Bottom" show off incredible skill in understanding how to act a character. Knowing that this was Boseman's last performance before his unexpected passing turns some of the more emotional scenes into gut-wrenching moments.
"Ma Rainey's Black Bottom" has very few flaws. Some might see the 94-minute runtime as a bit short, but it never felt minimal within the complex monologues and powerful moments. This film contains multiple long scenes of somewhat general banter between the bandmates. It makes for a few underwhelming stretches where nothing remarkable happens, and the characters talk between themselves. The scenes of banter may be a drag to some viewers looking for more action.
In any case, I highly recommend you give "Ma Rainey's Black Bottom" a chance. This movie is easily one of the best I have seen in the past few years. It is emotional, deep, and complex, with immersive performances and robust dialogue tying the film together into a work of art.