Table Tennis and Lunch All At Once For SL Teachers
Hang on for a minute...we're trying to find some more stories you might like.
Ping pong and lunch don't typically have a lot in common. However, during their daily lunch break, many Southern Lehigh High School teachers choose to relax with a fun, competitive game of ping pong.
"It's good to have that outlet, to be able to connect with colleagues in a way you normally couldn't," social studies teacher Mr. Matthew Cooper said.
Lunch time ping-pong is often described by teachers that do play as "intense, competitive, and fun." It's a time to relax, not talk about school, and unwind. Not all teachers play, and it takes some luck to get a group of teachers willing to play all in the same lunch. Usually it's a 2v2 match that goes until someone reaches 21 points, and they play for bragging rights.
"It's the camaraderie with your friends. We've had so many funny moments and good games, [and] anytime you can beat Mr. Greenawald it's a good thing," math teacher Mr. Lou Skrapits said. "Years ago we'd have tournaments. We drew out brackets and everything, and it was pretty intense. Not bad enough that you were going  to lose friends over [it], but just some of the mind games that went on, the teasing, just typical guy stuff."
Math teacher Mr. Matt Greenawald, social studies teachers Mr. Troy Ruch and Mr. Thomas Beaupre, and former Southern Lehigh faculty member Mr. John Zuk were the founding fathers of this unofficial club. It all started about 10 to 12 years ago when they decided to sit down one quarter and, in a way, avoid school.
The first ping pong table they ever had was one of the physical education ping pong tables, but as the unofficial club gained more members, it was more awkward when the table was removed for a week. The members all pitched in to buy the second table, which was accidentally broken by one of the custodial staff. The next table met its end accidentally when school resource officer Mr. Brian McLaughlin slipped on it. They are currently on their fourth table.
"[Matches are] usually intense, but also comical. We all have our own little expressions  we say when we make mistakes," social studies teacher Mr. Lee Zeisloft said. "We're all friends and make it a friendly environment, but we're all competitive and we all still want to win."
"We like the dives, the trick shots. When someone dives it's like, 'Wow, where's ESPN?' It's like, if Sportscenter were here, that would be in the top ten [play] for this week," math teacher Mr. Ryan Haupt said. "You don't forget those shots."
Teachers bring their own paddles to play with, but the memories they make are shared.
"[Memorable moments include] any time something extremely physical happens, such as a player falling, running into a wall, getting hit hard by the ball, or when a wall or paddle breaks," Spanish teacher Ms. Megan Markwich said.
"We literally have a teacher who fell into the wall and put a big dent into the wall, that's still there," Mr.Greenawald said. "We had a time where Mr. Ruch got so upset he threw his paddle across the room and put a dent in the wall, that's still there."
Some teachers even do a little extra to prepare. It is not unusual for a teacher to pack items they can eat quickly or eat lunch beforehand while on lunch duty. However, it is just as normal to eat while they play.
"I just love that competitive energy, and just being able to enjoy what you had as a kid with your coworkers is fun," social studies teacher Ms. Erin Laney said. "And I'm also a super competitive person anyways."
Ping Pong is just one activity that helps theses teachers brighten their day.
"The thing I most enjoy about [ping pong], is to beat Mr.Greenawald in a game, because any sport that involves a ball, whether it's a baseball or smaller, he's really good at," Mr. Zeisloft said. "So in ping pong, he's probably the best player of the group, so any time I get a W against him it's a lot of fun."

About the Contributor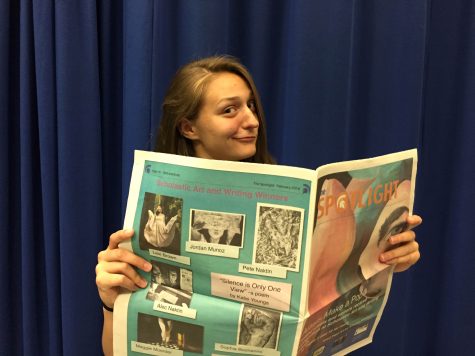 Allison Borelli, Features Editor
Allison Borelli graduates as a four-year Spotlight staff member. She has been a student reporter all four years, and features editor for two.

Outside...