Taiwanese Exchange Student Adapts to American Life
The United States and Taiwan: not only are they separated by roughly 8,000 miles of land and ocean, but they also have completely different sets of customs and practices. Moving to another country is an immense adjustment, and senior Yi-Jui "Catherine" Tsai is taking on that challenge this year as a Taiwanese exchange student at Southern Lehigh High School.
Tsai has traveled all the way from Kaohsiung, Taiwan, to experience American school life in the most authentic way by attending classes and participating in clubs alongside her American peers.
So far, Tsai feels very comfortable in the United States.
"People are friendly, and here [it's] very safe," she said. "People are more honest."
However, there have been many moments of culture shock for Tsai. Coming from the biggest port city in Taiwan, she quickly learned how difficult transportation is in Center Valley without a car. In Taiwan, one must be 18 years old to get a driver's license, so she was accustomed to taking the subway and using public bikes to get around.
She was also surprised by how large American houses are. A house with a vast yard is a common occurrence here, but very rare in Taiwan, especially in the city.
However, Tsai's favorite part of the United States is how different the school system is from that of her home country.
"It is much more competitive in Taiwan," she said. "School is more free [in America]."
In Taiwan, most students are expected to attend a cram school, where they spend long hours each night preparing for college entrance exams. However, in America, Tsai feels she has more academic freedom.
"We have a test every day in Taiwan. Normally, we have two to three a day," Tsai said. "So here, tests are not many. The homework here is a lot, but I think [it] is more meaningful."
During and after school, you will most likely find her spinning flags with the rest of the Southern Lehigh color guard. Back in Taiwan, she became active in color guard five years ago, so she was very excited to try it out in America.
However, not everything has been such a smooth adjustment. Her host family, she explains, has shown her a family dynamic different from back home.
"In Taiwan, I don't need to cook my dinner. I never cook," she said. "And here, my host mom will cook, but not everyday."
Food is a very important part of Tsai's life. Out of everything, she misses Taiwanese noodles and rice the most.
"I know I can be starved, so I have to learn to cook," said Tsai, who does not care for American cuisine and has learned to cook many of her favorite foods from Taiwan.
Tsai feels as though these past few months have shaped her in a new way. Guidance counselor Mrs. Christina Piascik agrees that being an exchange student be a life-changing experience for a young adult.
"It's so different when you travel for pleasure versus when you're immersed in the culture and you're actually living and breathing the day in and day out," Mrs. Piascik said. "[Catherine is] doing the things that all other students her age are doing."
Tsai looks forward to spending the rest of the year training with the color guard, spending time with friends, and trying out new foods.
About the Contributors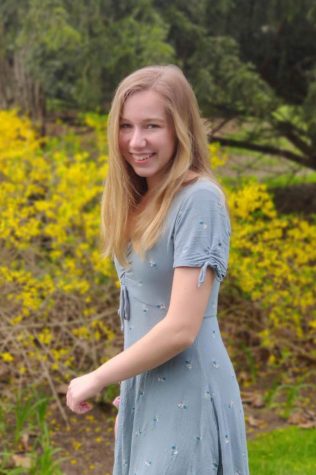 Saskia Van't Hof, Editor-in-Chief and Opinion Editor
Saskia Van't Hof is a fourth-year staff reporter and second-year Editor-in-Chief and Opinion Editor for the Spotlight. She is also president of Key Club,...
Amanda Simko, Staff Reporter
Sophomore Amanda Simko is a first-year staff reporter for the Spotlight. Outside of the newspaper, she is involved in clubs such as FCCLA and SADD. She...