Assistant Chinese Teacher Ms. Xue Zhang Joins the Language Department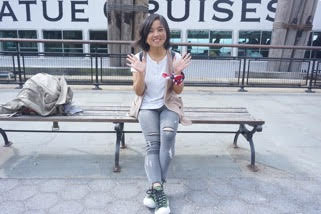 You may have spotted Ms. Xue Zhang in the Chinese classroom, at football games, or waiting in the lunch line for a chicken turnover. Yes, her favorite American food is Southern Lehigh's "famous" chicken turnover, beating out Chick-fil-A and McDonald's.
Chinese teacher assistant Ms. Zhang joined the Southern Lehigh World Languages department this year for a hands-on teaching experience in order to earn her master's degree. She is currently working on her thesis and master's work at Beijing Normal University in Beijing, China. The university facilitates the exchange program by sending Chinese teachers abroad and to our school every year.
"The exchange program gives me the opportunity to show the class authentic Chinese culture," Chinese teacher Ms. Patricia Gouck said. "For example, Xue Zhang taught the class how to paint a plum blossom tree. I don't have the experience to show the class this part of the culture."
This is also helpful to students, who are given the opportunity to learn from a native speaker.
"I think that having someone who has lived in China for most of their life and that has experienced Chinese culture really adds that sort of deeper understanding," freshman Chinese II student Christian Velez said.
Ms. Zhang feels that she has been supported by many teachers in helping her with teaching, educational suggestions, and information about the American lifestyle.
"American students are different from Chinese students," she said. "Chinese students take the test very seriously compared to American students, but American students balance class and life more than Chinese students. They can be very serious."
American students are more willing to ask questions during class time, whereas most Chinese students will resort to asking for help after class because they are shy. Ms. Zhang believes that when students give her feedback in class, they are demonstrating their understanding of the material and making the experience more rewarding for her.
One of her favorite things about teaching at Southern Lehigh is Spartan period. During this time, she can build upon and expand students' Chinese vocabulary and teach them about the culture.
"I teach Chinese songs during Spartan period, which are songs we don't [have a chance to] learn in class," Ms. Zhang said. "They are very simple songs I created, so the students are very happy when I teach them [the words]. It's not like a normal Chinese class."
Though Ms. Zhang spends time keeping in contact with her family through video chatting, she spends time exploring and absorbing American culture.
"[When I came to America I thought that] there are too many cars. Cars are everywhere," Ms. Zhang said. "In China, there are too many people in the streets."
In her free time, Ms. Zhang enjoys writing Chinese calligraphy, listening to music, jogging, and watching TV. During her time in America, she has picked up some other new hobbies.
"When I am free, I like to see the football games," Ms. Zhang said. "I have seen football games several times at the middle school."
Ms. Zhang has one year left to complete her master's degree, and then she can teach K-12 level Mandarin Chinese classes. After Ms. Zhang her year at Southern Lehigh, she plans to travel to Thailand for another year of student-teaching.
About the Contributor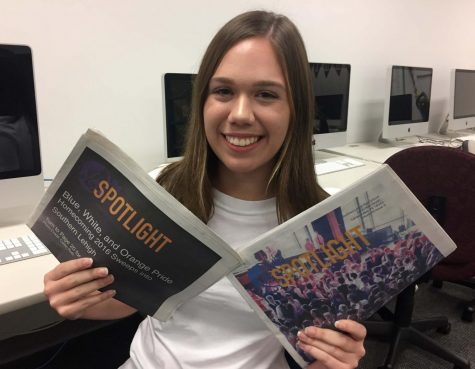 Bridgette Lang, Opinion & Our World Editor
Senior Bridgette Lang is a third-year staff reporter and former features editor, now serving as opinion and our world editor for the Spotlight. In addition,...