Portfolio Students Display Images of Spring at Gallery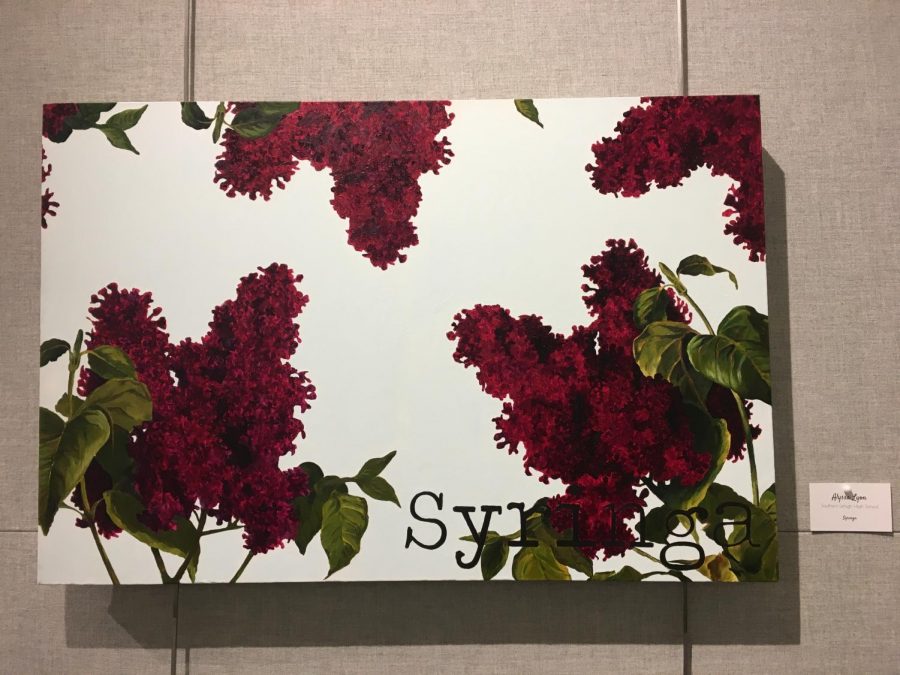 Floral paintings created by 13 Southern Lehigh art students decorated the walls of the community gallery at Allentown Art Museum from January 30 to February 25 in an exhibition titled "Spring Awaits."
"I thought it was pretty cool being able to be recognized for my art," junior Alyssa Lyon said. "Most of my family knows me as more of a 'school and sports' person who just does art on the side. But having them be able to see my art like this was very encouraging."
Each year, art teacher Mrs. Courtney Bathgate gives the students in her Portfolio Preparation class an opportunity to showcase their paintings in a gallery. Last year, the portfolio students displayed portraits of African-American poets at the gallery to celebrate Black History Month.
This year, a botanical theme was decided upon by Mrs. Bathgate and the gallery coordinator. Mrs. Bathgate wanted to use flowers to symbolize the end of winter and the beginning of spring, and also to compliment a floral photography exhibit already installed in the museum.
Each painting made by the students illustrates a brightly colored flower with a contrasting pastel background. A typewritten scientific name painted on the bottom right corner of the canvas unifies the unique styles of each artist as one display.
"We were all given a choice of a bunch of different flowers from a stack of pictures, but then we all kinda took our own liberties with the colors and textures," senior Jamie Kish said.
"I picked the lilac because I wanted a challenge and to push myself with new techniques," Lyon said. "While looking at the other flowers, I thought the lilac looked the most unique because it didn't have the traditional smooth petal of a daisy or a rose."
Mrs. Bathgate first booked the gallery space in August. Once the theme was established, students were given from October to January to create their paintings. For some artists in the portfolio class, it was their first acrylic painting in years.
"I'm definitely most proud of how I painted my flowers," junior Eme Sargent said. "It's the first acrylic piece that I've done in a while, which is kind of ironic since it's hanging in a museum now."
Several students were invited to help set up the exhibit, where they learned the behind-the-scenes work involved in opening up a gallery. The opening reception was held on Sunday, February 11, and students showcased their work to friends, family, and other visitors.
"My students learned a lot from this art show. They definitely improved their painting skills and learned how to work on a larger scale. They also learned about figuring out the whole process of operating a gallery," Mrs. Bathgate said. "I had a few girls come with me to hang the show, and we talked about different background colors and how to balance out the bright colored flowers with the less than bright colors. And I think they learned a lot just from the experience of having a gallery space and being known as an artist, which is what I want from this experience."
About the Contributor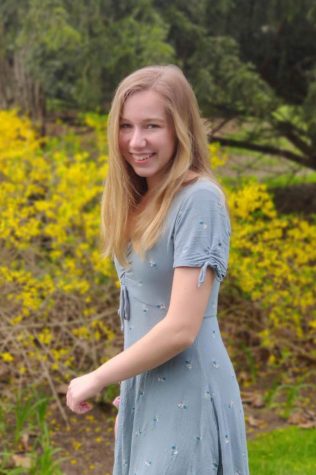 Saskia Van't Hof, Editor-in-Chief and Opinion Editor
Saskia Van't Hof is a fourth-year staff reporter and second-year Editor-in-Chief and Opinion Editor for the Spotlight. She is also president of Key Club,...