A Look Ahead: Senior Features and Advice from Teachers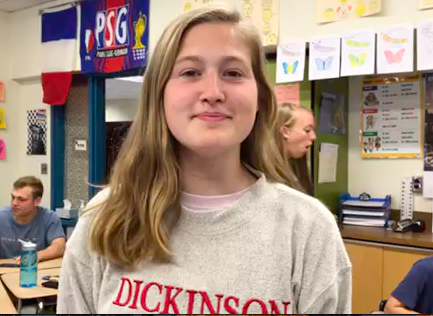 Hang on for a minute...we're trying to find some more stories you might like.
As the school year comes to a close, seniors begin to prepare for the difficult yet exciting transition to college. Graduating students of the Class of 2018 will be embarking on very different journeys this fall, travelling to places near and far.
Senior Jillian Werbisky, who will be attending the University of Pittsburgh on a full scholarship, plans to study psychology and political science in the hope of eventually joining the FBI to specialize in behavioral analysis. At DeSales University, senior Coby Rush will be studying biochemistry and molecular biology to become a chemist. Senior Emma Duane, who is committed to the University of Virginia, will be majoring in global studies, and senior Hannah DelSordo, a future Dickinson University student, plans to study international relations.
Teachers want nothing but the best for their students, no matter where life takes them, and encourage them everyday with tidbits of information to help them along the way. Math teacher Mr. Matthew Greenawald cautions, "Don't drink and derive," while fellow math teacher Mr. Paul Malik offers a thought-provoking philosophical probe, "Would you bet the farm on that?"
No matter where seniors go — college, the workforce, or the armed forces — their futures will be bright as long as they continue to follow these wise words of advice.
"I think you should try new things, especially languages," French teacher Mrs. Kaytlyn Byers said. "I think that you should travel and when people ask you to go on a trip, say 'yes.'"
"What do President George Bush and Donald Trump have in common? They are both 'C' students who became president. What do you call the guy who graduates first from medical school? Doctor. What do you call the guy who graduates last from medical school? Doctor," English teacher Mr. Joseph Castagna said. "I don't know which one I'd rather see, but they both became doctors. Don't worry so much guys, live your lives, enjoy it, because one day we're all gonna be dead."
As the seniors say goodbye to Southern Lehigh this June, we all wish them the best and hope that they find success in whatever they choose to pursue. Good luck, seniors, and always remember the wise words of psychology teacher Mr. Matthew Cooper: "Wherever you go, there you are."