Southern Lehigh Scores New Athletic Director
Southern Lehigh Spartans have been dominating in sports, and Mr. Marc Zimmerman may be a part of it. Mr. Zimmerman has recently been appointed as the new Athletic Director, and Southern Lehigh High School is excited to welcome him.
"Mr. Zimmerman comes to Southern Lehigh with such a great, upbeat attitude that's contagious, and it's great to have him here," athletic department secretary Mrs. Jody Hogman said.
Mr. Zimmerman grew up in the Lehigh Valley area, and graduated from Emmaus High School. He graduated from Moravian College with a bachelor's degree in psychology and elementary education. He then received a master's degree in educational leadership from Wilkes University.
Before becoming the athletic director, Mr. Zimmerman was a teacher for over ten years and then became an administrator. He taught middle school social studies and fourth grade in the Bethlehem Area School District. He also coached football and track and field for 16 years at various high schools.
This year, Mr. Zimmerman left his previous position to join the Southern Lehigh High School Athletic Administration. Mr. Zimmerman described patience, organization, and flexibility as some of the values he takes from his former teaching career to the field.
"What I like about him is that he is a teacher first," high school principal Mrs. Beth Guarriello said. "He has a very unique perspective of being an educator first, and a sports guy second."
Mr. Zimmerman's has many ambitious missions and goals for the athletic program. He plans on instilling a leadership council for sports, in order to further unify the athletic program as a whole, and connect it to the community. He hopes it will also teach students important leadership values.
"I want to see the SL athletic programs continue to grow and build off of the successful traditions they already have in place," Mr. Zimmerman said.
Mr. Zimmerman's lists spending time with his family his most cherished activity, and what essentially centers his life. He also enjoys going to sporting events such as the Army-Navy football game and the 2018 Masters golf tournament, both of which he attended.
He jokes about the irony of an athletic director going to games in their free time, adding jokingly, "I do really enjoy going to sporting events, and actually getting to watch them instead of running them."
After coaching and learning about so many different sports, Mr. Zimmerman was conflicted about naming a favorite sport.
"In being in the jobs that I've been in as an athletic administrator, I've grown to respect a lot of other sports that I didn't really know much about," Mr. Zimmerman said. "Every sport has something a little bit different about it, and I've grown to respect the differences in a lot of the other sports."
Overall, Mr. Zimmerman's unrelenting enthusiasm and ambition for this job will prove to be a valuable asset for the SL athletic program in the future.
"I want to assist in providing a very rich experience for our student athletes, which, in my opinion, involves success on and off the field. In terms of mission, I want to help push our Athletic Programs to the next level, which means continuing to be very successful in leagues and District level, but hopefully to become competitive at the State level as well."
About the Contributor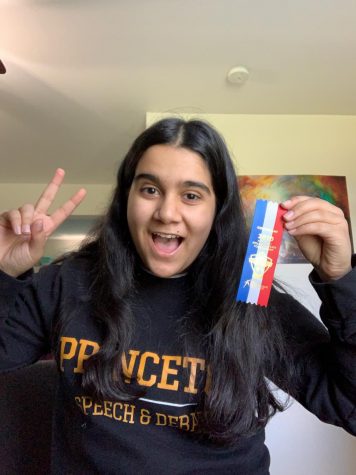 Aisha Durrani, Staff Reporter
Senior Aisha Durrani is a third-year staff reporter for the Spotlight. She is also a member of the Speech and Debate team, National Honor Society, Teen...