Southern Lehigh Performs a Masterpiece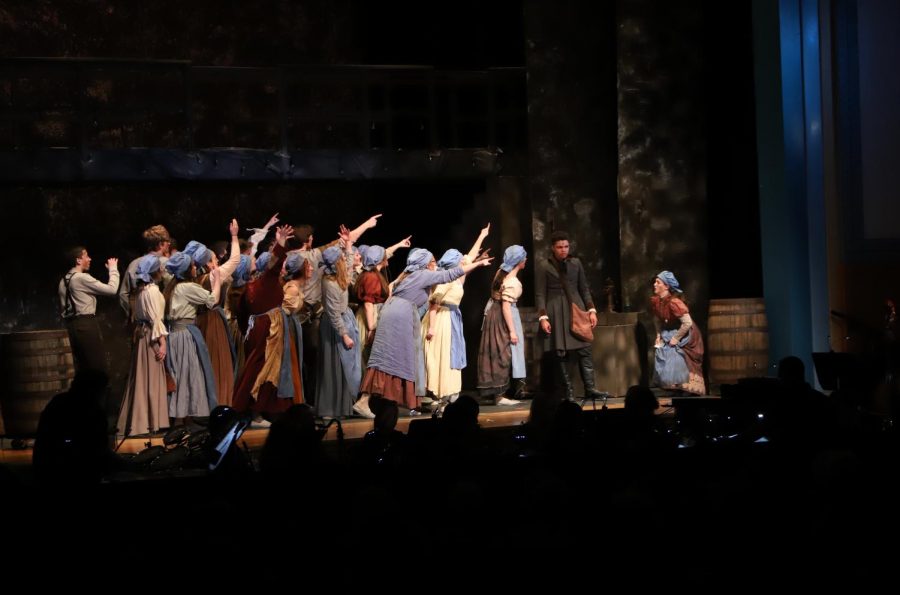 It takes an army to spark a revolution, and the same goes for putting on a musical. After months of hard work, Southern Lehigh High School's' production of "Les Misérables" premiered on March 13th and ran through March 17th.
"['Les Misérables'] is definitely one of the harder ones," musical director Mr. Matthew Wehr said. "I chose the musical because I think we have the talent to do it, and it fits as well for what were able to do."
The classic musical follows the life of Jean Valjean, a former-convict in early 19th century France. After being imprisoned for 19 years for stealing a loaf of bread, Valjean breaks his parole and and seeks a new identity. As Valjean's quest for a new life leads him into Paris, his story intertwines with many others in this beautiful tale about love, loss, and bravery.
"Les Misérables" is certainly an ambitious choice for a high school production. Southern Lehigh is one of the smallest high schools in the area to ever take on such a challenging  musical.
"'Les Mis' is so much more intense, but the music is also so much more beautiful, in my opinion," ensemble member Brielle Finkbeiner said.
Perfecting such an iconic musical required months of rehearsals for the cast. Auditions for the musical began on November 12, and rehearsals began shortly after the Thanksgiving break.
"It's a lot of work," Mr. Wehr said. "I would tell anybody that until you do something behind the scenes or associated with it, you have no concept of what it's like. It's impossible to describe until you live and breathe it."
In addition to Mr. Wehr and the cast, many teachers and students helped bring "Les Miserables" to life. As the stage manager, biology teacher Mrs. Jesse Winslow directed the stage crew and organized backstage. Art teacher Mrs. Courtney Bathgate worked with a team of students to construct and paint the backdrops and sets. Spanish teacher Ms. Jessica Swartz also choreographed the dancing scenes in the musical.
In the several weeks leading up to the show, members of the cast, crew, and orchestra all spent countless hours after school. From Monday through Thursday, the group of over 90 students rehearsed the production from 2:30 pm to roughly 6:00 pm. The cast and crew also spent many Saturdays rehearsing and working on the sets.
"I think the hardest song, dance wise, is 'One Day More', or the 'Epilogue'," freshman ensemble member Manon Immerzeel said. "They both have marches in them, and getting everyone in sync is harder than you'd think. We worked on them for a long time to get that right and so that people didn't misstep."
For members of the cast with lead roles, the hours were even longer. Aside from the singing aspect of their roles, Mr. Wehr also had them focus on their acting on stage.
"When you're on stage by yourself, you really have to connect more with the audience," junior Christian Clausnitzer, who played Jean Valjean, said. "It's just you and the audience. It's more of the one on one interaction as opposed to singing with the ensemble, where I have to blend in and be a part of the group."
The cast, crew, and orchestra's hard work paid off, and the play was sold out almost every night. Now, all that's left for the cast is to wait for the Freddy nominations to start rolling in.
About the Contributors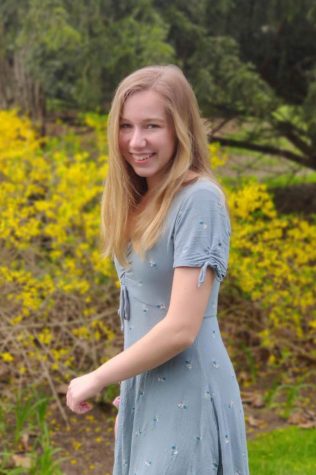 Saskia Van't Hof, Editor-in-Chief and Opinion Editor
Saskia Van't Hof is a fourth-year staff reporter and second-year Editor-in-Chief and Opinion Editor for the Spotlight. She is also president of Key Club,...
Breanna Grabowski, Staff Reporter
Freshman Breana Grabowski is a first-year staff reporter for the Spotlight. She joined the staff seeking a platform to express her love for writing and...