SADD Students Organize Annual Healthy Living Expo
Hang on for a minute...we're trying to find some more stories you might like.
The dedicated students of the Students Against Destructive Decisions (SADD) club work hard every year to put on the Healthy Living Expo, a community event designed to encourage a healthy lifestyle. This event took place in the Southern Lehigh High School gym on November 16 from 8:30 to 10:30 A.M. Booths were manned by Southern Lehigh teams and clubs, such as the rifle team and GSA, as well as by local businesses and organizations, such as the Valley Youth House.
"The Healthy Living Expo is basically a day where we're trying to educate everyone on making good decisions to live a healthier life," senior Hannah DelSordo, a SADD club officer, said.
The expo was a whirlwind of activity.  The gym was crowded with all different kinds of lively students, from baseball players to robotics team members, including students from other schools. Over 60 booths from 37 different clubs, teams, and community organizations covered topics such as mental health, healthy eating, the importance of physical fitness, coping mechanisms, and many others.
"[The Healthy Living Expo] was fun," freshman Sarah Cassavaugh said. "They different games and food out for everybody; they also  had a GSA stand which was probably my favorite part."
For example, the rifle team booth had an activity involving shooting cups with a Nerf gun while a team member distracted the shooter, showing how important ignoring distractions is to a healthy lifestyle. One booth offered coloring pages and utensils and encouraged students to color as a form of stress relief. Yet another booth, run by officer McLaughlin, featured students wearing goggles that mimic the effects of drunkenness and trying to walk in a straight line or play catch in order to teach students and other attendees about the effects of alcohol. There were also several tables offering food such as fruit, fruit smoothies, and protein bars.
"I think [the most interesting part was] getting to see all the different ways that people do their own style of healthy living," senior Tonnie Craft, SADD club officer, said.
A successful event, however, does not come out of thin air, and SADD coordinators encountered some obstacles regarding logistics along the way. However, with hard work, SADD was able to pull off a very successful, impactful event.

About the Writer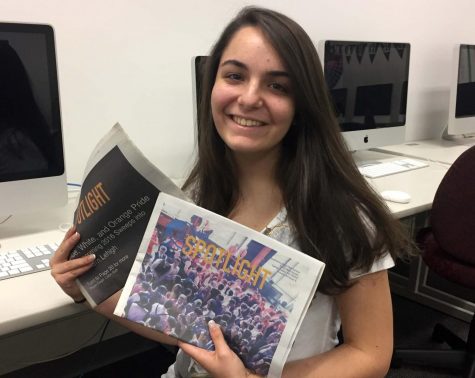 Kennah Salvo, News Editor
Junior Kennah Salvo is a second-year staff reporter and the news editor for the Spotlight. She is a member of the feminist student union and the Southern...