Faculty Members Use 'No Shave November' to Raise Money to Help Our Neighbors in Need
Hang on for a minute...we're trying to find some more stories you might like.
Last month, in every classroom across the school, we've all saw the large tin cans, and heard them rattle with the change of our peers. No Shave November has come to an end, and it was a rousing success.
No Shave November was an event set up by special education teacher Mr. Matt Miller, and required willing teachers to follow the rules of not shaving for a month. Students could then donate money to the teacher they thought grew out the best beard. All of the proceeds went to Betty Lou's pantry.
"It's fun to grow facial hair," Mr. Miller said. "I like to grow facial hair this time of year anyway, and nationally there's 'Movember' so I thought we could do it here locally and support a local organization."
This year was the fourth year that the campaign has taken place, and each year, it seems to be getting more and more successful. Students raised $963.64 this year, which is an estimated $400 increase from last year.
"Really the credit belongs to the people that participated and the students that donate the money," Mr. Miller said. "So, they really bought into it and did a nice job. And some credit to the teachers for getting out there and really soliciting some donations. [English teacher] Mr. [Jeff] Hershey alone raised $167!"
But it wasn't only the students that bought into the campaign. The teachers knew the significance of the donations, and knew it all was going to a great cause.
"In this case, we're raising money not just for a good cause, but for a good cause in our own community. A lot of people think that because we're Southern Lehigh, [we] have lots of money. But in reality, there are hundreds of families, who are just like many other families in this country, who need some help," math teacher Mr. Matt Greenawald said. "And Betty Lou's Food Pantry services, I believe, helps up to 200 families in our community, so if we can provide some assistance to families in our own Southern Lehigh community, all the better."
Some teachers may even keep the facial hair during the upcoming winter months.
"I think I like it," Mr. Greenawald said. "I think I'll keep it for now."
Betty Lou's Pantry is a non-profit organization formed by churches in the Southern Lehigh area committed to gathering and distributing food to neighbors in need. To learn more, go to www.bettylouspantry.com

About the Writer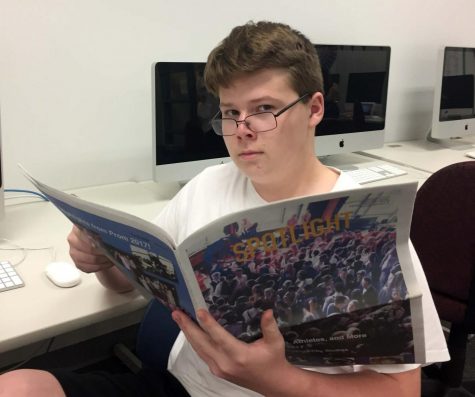 Griffin Schmoyer, Social Media Editor
Senior Griffin Schmoyer is a second-year staff reporter and social media editor for the Spotlight. He has attended Southern Lehigh since kindergarten,...