AP Government Students Serve As Senators for a Day
Ben Baca, Staff Reporter
December 18, 2017
Hang on for a minute...we're trying to find some more stories you might like.
On November 17, 2017, eight AP Government and Politics students and social studies teacher Mr. Tom Beaupre attended Senator for a Day at Muhlenberg College, hosted by Pennsylvania State Senator Pat Browne. From 8:00 p.m. to 2:00 p.m., seniors Allie Jameson, Michael Grabusky, Melissa Stough, Jillian Werbisky, Samantha Talecki, Sarah Trebicka, and junior Dyani Hernandez, were given the opportunity to get a hands-on experience of government functions and public policy issues.
"It's a great opportunity for the students to see how the legislative process works," Mr. Beaupre said. "Even if it's not exactly the way it is, it's still very exciting."
The session opened with a general discussion on how the legislative process works. Then, all students who attended the seminar were divided into four Senate committees (communications, education, judiciary, and transportation) with two bill topics per committee to be discussed and drafted for the full "Senate" to consider.
In the afternoon, all student senators then convened in a general session to debate and vote on the legislation drafted by each committee.
"I felt very important. It made me almost made me feel like, 'Ooh, look at that cool girl,'" senior Jillian Werbisky said, "but it was also very stressful and like a high-pressure situation when you bring up something. No one would agree with you because the people were not shy to shoot you down and say their opinion."
Afterward, the students seem to have felt a positive impact on their Senator for a Day experience.
"I was able to get people to express their feelings and run the committee effectively," senior Michael Grabusky, who served as a committee chairman, said. "I liked being able to fairly and effectively distribute and regulate speaking power. I also liked being able to facilitate debate."

About the Writer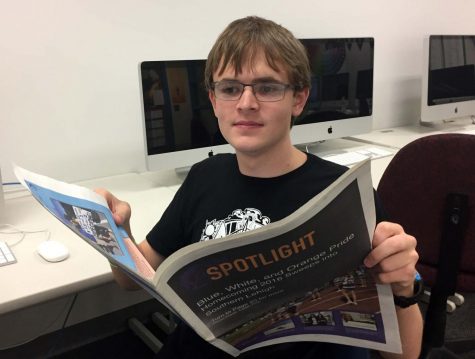 Ben Baca, Staff Reporter
Senior Ben Baca is a second-year staff reporter for the Spotlight. He is into movies and likes to watch classics such as "Jurassic Park," "Shawshank...