Cultural Fair Proves Enlightening for Students
Hang on for a minute...we're trying to find some more stories you might like.
The U.S. is often referred to as a cultural "melting pot." Southern Lehigh juniors from Mr. David Krial and Mr. Lee Zeisloft's World Cultures classes applied this theme to the World Cultures "Cultural Fair." In the gymnasium during first and second block, students showcased their final projects about various different countries as students and staff from around the school came to see the fruits of their labor.
"A lot of the reason [why we assigned this project] goes back to the issues we had regarding diversity and the bullying or name calling that occurred early in the year," Mr. Krial said. "There was a group of students that was formed, the Spirit Committee, and one of the things that they had recommended was they would have liked to have seen some sort of celebration of different cultures that kind of represent the student body."
Mr. Krial, and Mr. Zeisloft, along with principal Mrs. Christine Siegfried, thought that this could work well as a final project for the World Cultures course.
Students coupled many physical projects with homemade meals to correspond with the culture they researched.
"I think the food component added a little twist where kids were prideful … about what they made, and I know by the time the fair was over I [was] stuffed," Mr. Zeisloft said. "I think I ate something from almost every table, but overall I think it was really good, I think the kids seemed to enjoy it."
Students and teachers alike, including those who participated, felt the display was a tremendous success.
"I thought it was a good experience. It was cool to see all the different artifacts and taste some food that kids brought in for their country," junior Jacob Dyche said. "I probably learned about different countries' type of music the most because a lot of people choose music as one of their two choices [of examples of culture in their country that students had to bring in] that relates to their country."
"At the end of the fair, Mr. Krial and I were both very happy with the effort and level of commitment that kids gave," Mr. Zeisloft said. "We walked around and talked to different students at different booths, and we thought the kids were really prideful in what they did, and I think that was a really good thing."
After how well-received it was the first go around, the culture fair is surely coming back for years to come, students already feel excited to come back.
"It'd be cool to see it happen again, mainly because I would want to come back as a senior and see the fair as a visitor instead of a presenter," Dyche said.
On the other hand, teachers felt like some improvements may need to be made in the coming years.
"I think it's definitely something we would like to keep doing moving forward," Mr. Krial said, "[but] maybe [we could] do it on an evening so we can get more of the parents and community involved."
"If I would change things I'd probably have kids bring a little more from their culture to show. A lot of kids did music, which was good, but with it being so loud in there, it was hard to really hear and have that component," Mr. Zeisloft said. "Having the music is fine, but add another component beyond food [and] the music."
In whatever form it comes back, the culture fair is sure to be a success for many years to come.

About the Writer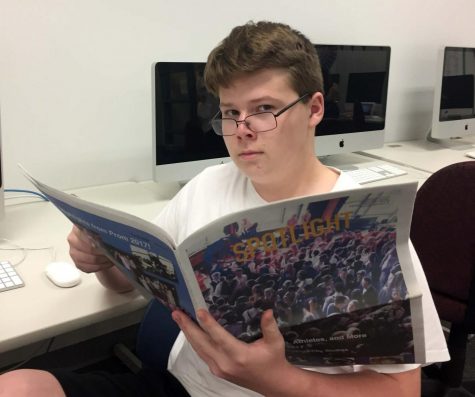 Griffin Schmoyer, Social Media Editor
Senior Griffin Schmoyer is a second-year staff reporter and social media editor for the Spotlight. He has attended Southern Lehigh since kindergarten,...