Annual Coffee House Celebrates the Arts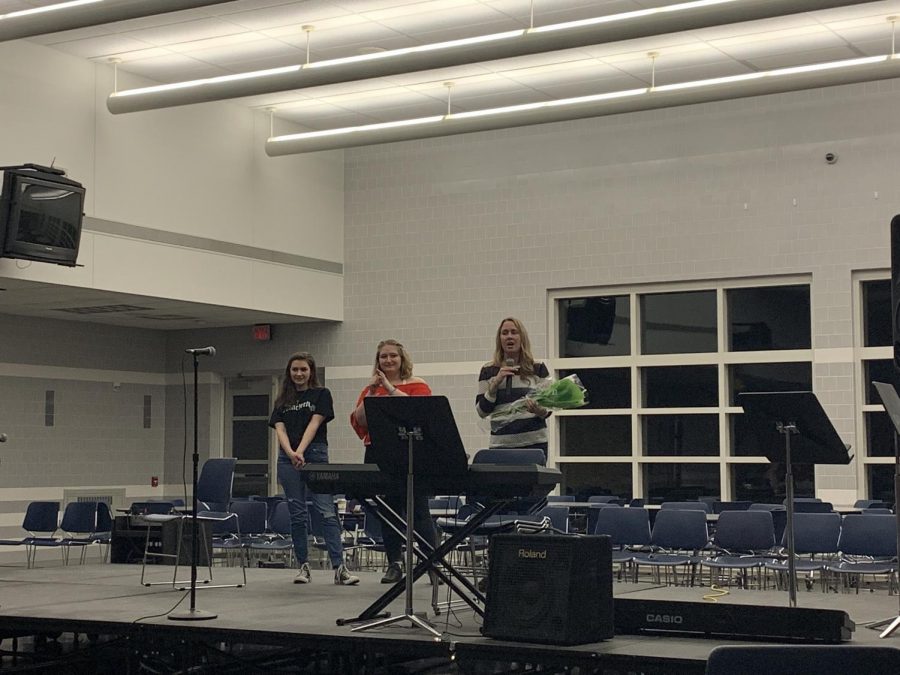 On March 29, Southern Lehigh High School's art and literary club held their annual coffee house, a culmination of weeks of hard work before the event. The Coffee House showcased student artists, creators, performers, singers, musicians, and more, but we also cannot forget the spectacular show that some of the teachers put on as well.
"Our school doesn't offer anything else like [the coffee house]. All these like minded people are coming together for a common goal," English teacher and club advisor Mrs. Sheryl Ciotti said. "It's people who appreciate and enjoy the arts. The goal is to offer students a creative outlet in which they are free from judgement."
The art and literary club also raised money from the baked-good sales towards club activities. Admission to the event was free, but they sold a variety of homemade baked goods for their causes.
Senior co-presidents Gianna Griffith and Sarah Jacobson worked tirelessly for over a month to coordinate performers, food, decorations, and logistics. This year, they split up their club into smaller committees to focus on different areas of the coffee house and found that this technique allowed things to run a lot more smoothly.
"[This year,] we organized club members into … a decorations committee, an advertisements committee," Jacobson said. "Each student leader in the committee was in charge of making sure that their duties got done. We oversaw everyone."
Some changes were made from the event last year, such as addition of the "poetree." Decorations committee head, sophomore Joy Fan created a tree that included line and stanza submissions from students. Each leaf of the tree represented a different student's contribution. The week prior, a Google Form was open to all SLHS students for their submissions.
"This year the club members put in much more effort than they did last year, which took a lot of pressure off of Sarah and I, who were under a lot of more stress last year," Griffith said. "The 'poetree' was a really fantastic creation of some of the sophomores, an idea that Sarah and I would have never thought of otherwise."
Despite some of the small changes, the Coffee House itself was greeted with the same surge of enthusiasm from performers and spectators. Many of the students who performed last year decided to perform again this year. Sophomore Sarah Lindley played the flute and piano in three duo performances.
"I feel like there were more people there [this year], and everyone was really supportive of everyone else performing," Lindley said. "Everyone was really enthusiastic and forgiving of mistakes."
Another returning act was senior magician Dean Pellegrino. Pellegrino invited up several members of the audience, including assistant principal Mr. Thomas Ruhf, to help him with his tricks.
"I don't really have a passion for magic; it's just fun to make people confused," Pellegrino said. "Since [the] last coffee house, I've just honed in my skills and gotten more comfortable with sleights and stuff."
Science teacher Mr. David Dougherty performed two songs on the harmonica. Though he starting playing harmonica around six years ago, he has always loved the blues. He was overwhelmed by how the audience clapped and cheered when performers messed up or forgot the words.
"The number one reason [I performed at the coffee house] is to support Mrs. Ciotti, and the second reason is because I get nervous going on stage. I know that a lot of students get nervous going on stage too," Mr. Dougherty said. "… let's celebrate our bravery together."
The art and literary club wants to thank Mr. Dougherty, music teacher Mr. Larry Fisher, math teacher Ms. Justina Viola, and the custodial staff for all of their help during the set-up and clean-up of the coffee house. Students can expect the annual art and literary magazine to be published and distributed in May.