Students Offer Unique Regional Perspectives at Culture Fair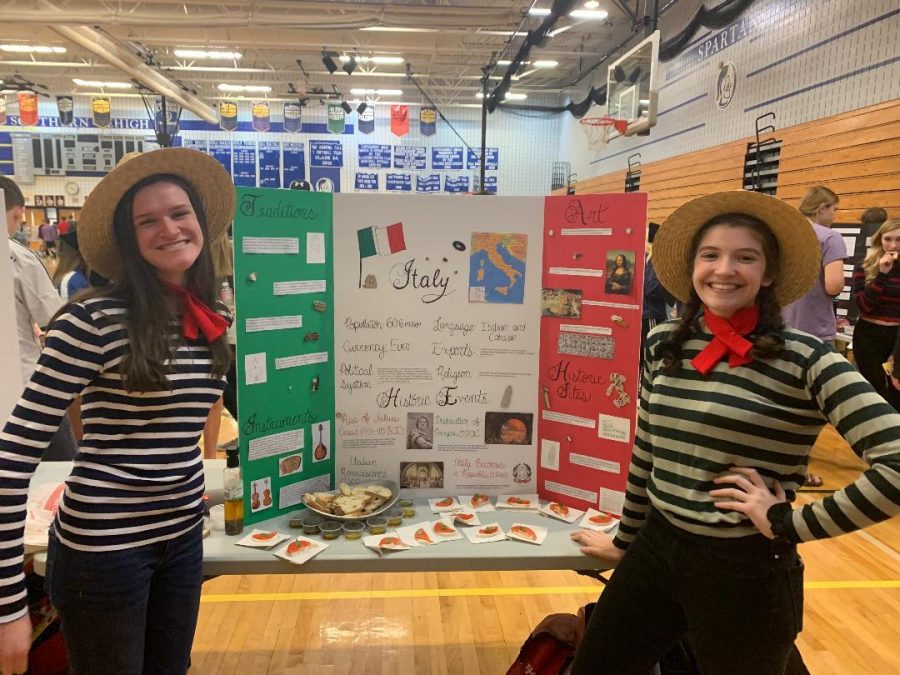 On Friday, April 26, eleventh-grade students participated in the second annual culture fair as a part of their World Cultures and AP World History course work. The goal of the culture fair is to allow students to investigate a culture of their choice, to walk out with a more informed and diversified perspective, and to effectively present what they have learned. Students taking these courses not only made poster boards covering the history and arts of their chosen country, but they also brought in cultural artifacts, like food, traditional garb, and music.
Dozens of tables were set up in the gym during second block for participants to showcase their hard work and for other students to listen about and experience each country's culture. It was an exciting day but also a nervous one for many of the juniors. The culture fair was a part of students' final projects, and each student was interviewed for a grade.
"Over the last two years, one of the biggest takeaways that Mr. Krial and I have noticed, is that students who may not display a passion for our class, really seem to get excited about this project," World Cultures and AP World History teacher Mr. Lee Zeisloft said. "As teachers and students walk around at the culture fair, you can see how proud and knowledgeable kids are to share about their project and for people to try their food, listen to their music, [or] explain their game."
Students were allowed to partner up with others in the course. Together, they could select which country they would like to cover, leading to many diverse regions represented in the fair. Peru, the Philippines, and India are just a few of the countries that were covered.
"[I chose to do the Philippines] because my uncle married into a Filipino family," junior Gabriella Gormas said. "And they're some of the nicest and funniest people I've met. I'm going to visit the Philippines next year, so I figured I would learn more."
Some of the most popular countries this year were Germany, Ireland, France, and Italy. Many students had to think outside of the box to differentiate their project from their peers'.
"We were going to choose Ireland, but we figured other people would choose Ireland too," junior Alise Downey said. "So we chose Norway. It's similar to Ireland, but it still has its differences."
Though a bit stressful for the teachers and students to pull off such a large and successful event, the culture fair was arguably the most fun for those who got to eat all of the food. There were cookies, crepes, taquitos, kiwis, and Japanese rice balls to try. If you walked a lap around the room and stopped at a handful of the tables, you would certainly be full.
Although the culture fair was clearly a learning experience for the students, it has also made the teachers think about how to most effectively structure the final project and how to set up the fair. World Cultures teachers Mr. David Krial and Mr. Zeisloft have continuously reflected on the development of the culture fair over the past two years.
"We didn't change a lot from last year to this. We gave kids a little more flexibility to which country they wanted to choose," Mr. Zeisloft said. "This did lead to a lot of repeats – which isn't what we wanted, but we also want kids to embrace the country they choose and be excited about displaying their country's culture. We hope to modify the assignment for next year to make it more diverse."
It's exciting for students and staff to watch as the culture fair becomes integrated into Southern Lehigh tradition and as it helps our school to become a more informed place.