Dr. Mykee Fowlin Shares Emotional Stories During Assembly
To kick off the school year with a message of unity, psychologist and and performer Dr. Mykee Fowlin spoke to the Southern Lehigh High School student body during an assembly on September 6th. A follow up to last year's performance, Dr. Fowlin's emotional speech on empathizing with others moved many to tears.
"We wanted to encourage an environment of acceptance and inclusion, and for people to embrace everyone else's differences," principal Mrs. Beth Guarriello said. "Just like last year, I hope this assembly really made people look at people for who they truly are. I just think we all have a story, and we also have to take that into account."
This year, Dr. Mykee Fowlin's speech focused on sharing stories of loss and trauma, and how they impact the everyday lives and future decisions of the individuals affected. In his distinct style, he delivered his speech in a combination of spoken verse and character impersonations.
"At first when he started doing different characters I thought it was a bit weird," freshman Josh Keller said. "But when I got used to it, I actually started to feel for the different people."
Intertwined with the overall theme of loss, Dr. Fowlin shared the heartbreaking stories of eight fictional characters: prisoner Mark Rizzo, 14-year-old Francine, brown student Kwame Harris, privileged high school student Chris Denton, disabled Tommy Anderson, and Mark's brother Steve Rizzo.
Many characters, such as Kwame Harris and Steve Rizzo, were inspired by people Dr. Fowlin knew in real life. 
"Whenever I use parts of people's lives, I try to disguise it enough where it's not directly their story. I looked at the experience…and created around it," Dr. Fowlin said. "Part of it is fictional. When I did the characters Steve and Billy (Steve's best friend), the real Steve is not that reflective — he's not that person — but it made me think about how we can bridge some of that gap."
The stories of the eight characters, many whose experiences take place during high school, struck a chord with many students in the audience.
"It was really emotional," junior Ruhbani Sidhu said. "It definitely hit home for me and a lot of other people. Everyone who was sitting around me was crying a little."
Dr. Fowlin is certainly no stranger to this sort of reaction from high schoolers. With a doctorate degree in clinical psychology from Rutgers University, Dr. Fowlin has spent years exploring the complexity of human emotion. However, it is the pain from his own high school experience that has shaped his presentation the most.
"I felt so isolated when I was going through my initial part of depression that really hit hard in my freshman and sophomore year," Dr. Fowlin said. "And the worst feeling was thinking that I was completely alone. It wasn't true, but I didn't know that because no one else was talking about it."
Dr. Fowlin hopes that through the stories of his characters, students realize that their peers struggle with the same sense of loneliness. He feels the most pride in his work when students tell him afterward how he made them feel less alone.
To close the assembly, Dr. Fowlin left students with a powerful message of unity: "I challenge you to pay attention and to try to figure out how to help people to feel safer and less alone…I challenge you to go beyond the Instagram posts and Snapchat posts, and let people see your true self."
About the Contributor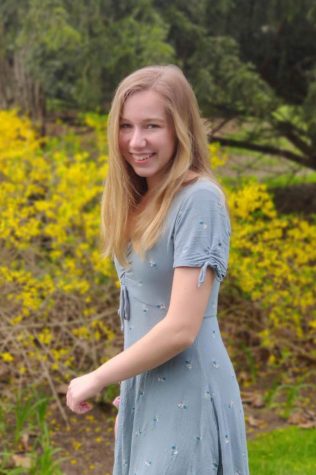 Saskia Van't Hof, Editor-in-Chief and Opinion Editor
Saskia Van't Hof is a fourth-year staff reporter and second-year Editor-in-Chief and Opinion Editor for the Spotlight. She is also president of Key Club,...