Mini-THON Plans To Spread Awareness District-Wide with New Projects
February is National Cancer Prevention month, which mini-THON plans to promote through two projects: a district staff dress down day and the district-wide creation of chemotherapy kits. 
The purpose of the projects are to bring everyone together who has been affected by any type of cancer, since the effort will be districtwide. They will also provide the opportunity for mini-THON students and community members alike to donate money and time. 
"Throughout this cancer awareness project, our goal is to help the long process of chemo treatments with entertainment, warmth, and encouraging messages," senior Lizzie Selman, Mini-THON president, said. 
The first project is a district staff dress down day on February 26th. The faculty at Southern Lehigh School District are asked to pay five dollars to dress down and wear purple in support of cancer awareness month. 
On February 26, Mini-thon is asking students and staff to wear purple because that is the color for all cancer awareness. Mini-THON students will also be making individual ribbons to send to the schools throughout the district for people who want to represent a specific cancer that has directly affected them.
The second idea requires a much larger undertaking. The plan is to make and hand out little goodie bags for nurses and doctors who work in oncology units at Lehigh Valley Health Network and also make "chemo kits" for patients in the hospital. 
Each school will contribute one part to each bag. The high school will be in charge of collecting age appropriate coloring books/colored pencils. The middle school will put up a donation box for activity books like crosswords and word searches. The intermediate school will advertise a donation box asking for warm fuzzy socks. 
Together, the elementary schools will create "you got this" cards, but they each have their own collection assignment too. Hopewell will collect donations of lip balm and hand cream. Liberty Bell will take donations of Haribo Gummy Bears and Dum Dums. 
Mini-THON plans to involve the community any way they can. In addition to the donations at schools, they are putting donation boxes at many local businesses to collect items like neck pillows and blankets. 
The club will start collecting supplies for the chemo kits in the beginning of February and stop on the 26th which is the day that mini-thon plans to make the kits and have the district wide wear purple day. 
"Not only are we able to have our entire school district participate in the donation part, [but] we will be personally helping those affected by cancer in the Lehigh Valley," senior Paige Zamichieli, co-head of registration, said. "The chemo kits stand for more than just a bag with items in it; they're a message to those in our community battling cancer that we are here to support them." 
The project came from the minds of Selman and mini-THON adviser Mrs. Lauren Tocci. 
"Amongst the committee heads and the executive council for mini-THON, we combined our knowledge of friends and family members that we know who have been through chemotherapy or are currently going through chemotherapy, talking to them and seeing what they needed," Mrs. Tocci said. 
Along with the chemo kits, mini-THON will produce a "Why We Fight" video. Seniors Alex Lycette and Lizzie Selman will team up to produce a video to spread awareness of the mini-THON project and get people to think reflectively about their own experiences of why they might want to take part of the month of donations, dressing down or simply wearing purple. 
For this effort, mini-THON has created the phrase 'SL; No One Fights Alone' as their slogan. 
"When you talk to people who have been affected by it, the sense of community needed to lift someone up in what can be one of the scariest times in your life is so valuable and important," Mrs. Tocci said. "And this is a way we can show that in Southern Lehigh no one has to go through this by themselves."  
About the Writer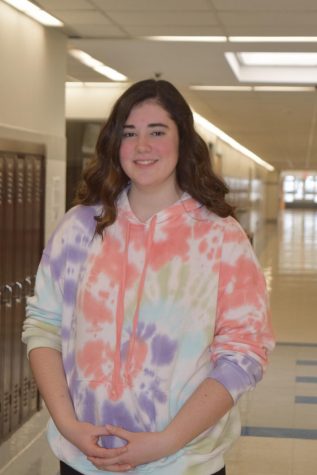 Kate Miller, Sports Editor
Senior Kate Miller is a first-year staff reporter and sports editor. Outside of the newsroom, she is involved in spartan ambassadors, teen counseling,...