Putting an End to Derogative Name Calling
Hang on for a minute...we're trying to find some more stories you might like.
"That's so gay," a student erroneously mutters beneath his breath, cursing the homework he's been given. "What's wrong with that?" you may be wondering. To put it simply: everything.
"The issue with the [negative] use of the term ['gay' or 'fag'] is that people are not really aware that they're even using it at times, let alone its negative effect," GSA adviser Ms. Kate Schartel said. "So what I usually do is that I tell them that unless they're referring to a bundle of sticks or a cigarette, they need to make a better word choice."
Too many people use "fag" and "queer" as a derogative. I could ramble on and break into a million different various points, but I'm just going to stick with the best way to solve the problem: awareness.
"I'm kinda grossed out when people use [gay] as an insult," junior Ada Steward said.
Calling someone gay to hurt them is what's wrong; this creates negative connotations for people who identify as lesbian, gay, bisexual, or transgender (LGBT). There's nothing wrong with being LGBT, yet calling someone gay to hurt them helps promote this fallacy.
"At one point I will please ask them to watch what they're saying," sophomore Kataunna Sell said. "There are certain people that do get hurt."
Instead of calling homework or something else "gay" because you don't like it, use more preferable and accurate word choice. You're getting an education for free, so use it.
"The main thing is educating about the potentially negative effects of using 'fag' as an insult, because in most cases people will say 'well 'I'm not homophobic, I'm just saying it 'cause it's just a thing that people say,'" Ms. Schartel said, "but the issue is, it shouldn't be a thing that people just say."
To use words such as "gay" and "fag" as derogatives damages society and people in unseen ways. Whether it's hurting someone emotionally, or laying down a dangerous "monkey see, monkey do" behavior for the younger generation, this bigoted and unfair pattern can't continue.

About the Contributor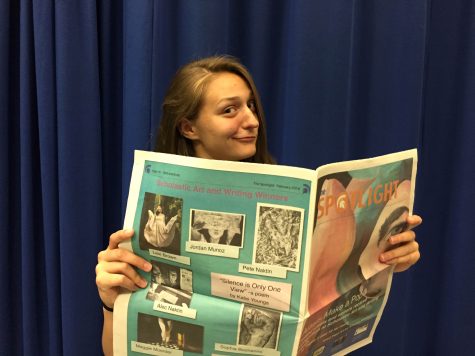 Allison Borelli, Features Editor
Allison Borelli graduates as a four-year Spotlight staff member. She has been a student reporter all four years, and features editor for two.

Outside...