Letter from the Editor (2018 – 2019 School Year)
I don't think that I had any idea what I would be getting into when I first joined the Spotlight. Originally, I wanted an outlet for writing, and journalism felt like a instinctive choice. Back then, I simply saw it as a fun activity to try out on my path to becoming a writer. I never imagined that it would become my passion.
A lot of who I am today has come from being part of publications. From contributing to the Art and Literary club's annual magazine, to writing a blog, to working my way up to editor-in-chief of the Spotlight, I can truly say that publications have played a major role in my high school experience. I was drawn to journalism specifically because I found that I could make a difference through my writing. There is a lot of unexpected power that comes from writing, and through my articles, I was able to bring awareness to topics and write about what truly inspired me. Journalism was a surprisingly natural fit.
I look forward to dedicating my next four years at university to journalism and the field of communications. I am so delighted to have found something that makes me happy, and I know that no matter where I am headed in life, I am sure to find my fire.
I will be passing on the role of editor-in-chief to Saskia Van't Hof, our current features editor. She is wonderfully talented, and I know she will do an amazing job. Looking back on my years in the Spotlight, I am in awe of how many talented writers I have gotten to work with. However, one writer has been most influential.
Mrs. Spritzer has quite literally been my day one. I had her for my first block my first day of freshman year for color guard, and honestly, I thought she didn't like me. Now, I can confidently say that is not the case. She has been a role model, a mentor, and most importantly, a friend throughout my four years working with the Spotlight. Nobody cares more about the Spotlight then her, and nobody works harder to make sure that every issue is the best it can be. I will miss her greatly, although I might be seeing her on move in day (Hail to Pitt!).
Everyone on the Spotlight has had the utmost integrity and professionalism while carrying out their duties, and I am so proud of all of them and their hard work. It has been an honor to edit articles at midnight, learn way too much about AP style, and debate puns with the staff. I can not wait to see where the next four years will take me.
Oh, and by the way, our paper isn't "liberal garbage." We're an award winning publication with certificates (and facts) to prove it. Just saying.
Sincerely,
Sarah Jacobson
Editor-in-Chief
About the Contributor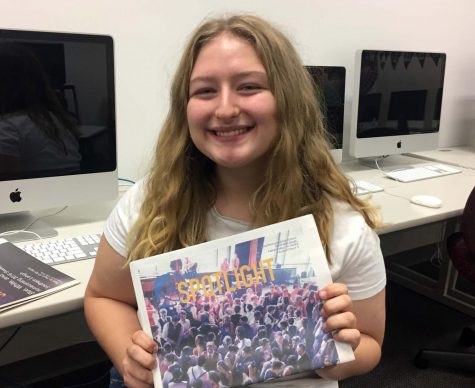 Sarah Jacobson, Editor-in-Chief
Senior Sarah Jacobson is a third-year staff reporter, former Our World editor, and current Editor-in-Chief of the Spotlight. She is also the head of social...