Where Are They Now? Dan Marant
Hang on for a minute...we're trying to find some more stories you might like.
At a football game there are many different scenes: the athletes on the field, the fans cheering in the stands, the coach of your favorite team yelling at the players to hustle. However, you may not pay attention to the athletic trainers that are there to prevent, diagnose, and treat athlete injuries. One 2013 Southern Lehigh graduate, Dan Marant, is studying to earn his Master's in Athletic Training at the University of Kentucky after graduating with a Bachelors in Athletic Training from Pennsylvania State University.
"As a graduate student, I help with research on shoulder rehabilitation techniques and continue to study athletic training," Marant said. "I also am writing research papers that I will be able to publish in medical journals."
In the future, he would like to work with Division I or professional athletes as an athletic trainer or strength coach, but may branch out and work at a sports performing center later in life. With his experience working with the University of Kentucky track and field team, Chicago Bears summer camp and pre-season in 2016, and Penn State football team in 2015, he might just get what he always wanted.
"I develop corrective exercise rehab programs in order to prevent chronic injury as a result of poor movement mechanics, muscle imbalances, or poor mobility," Marant said. "I have also been fortunate to work with a lot of high profile athletes already in my career. We currently have multiple track and field athletes that have competed at the Olympic level."
He has always been an athlete himself, so he knows what stress they are putting on their bodies as they continue playing sports collegiately or even professionally. In high school, Marant participated in soccer, track and field, and club volleyball. He also took part in the Emerging Health Program (EHP) his senior year, which led him to where he is now in the medical field.
When trying to figure out how to get to where you want to be in the future, whether it be a job, or even a sport, Marant has a few encouraging words for students.
"Figure out the small steps you must take to get into the position you want to be in," Marant said, "and set goals to meet each step along the way."

About the Writer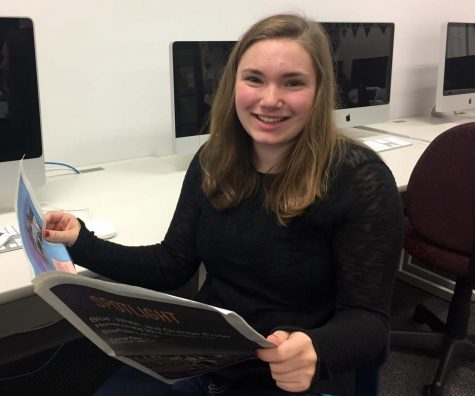 Danielle Alpert, News Editor
Senior Danielle Alpert four-year staff reporter and former two-year center spread editor, now serving as news editor for the Spotlight. In addition to...