Phildelphia Women's March Inspires Social Change
An estimated 50,000 activists gathered in Philadelphia on January 20 to attend the second annual nationwide Women's March on Philly. The theme this year was, "We Resist. We Persist. We Rise." The Philadelphia march was one of many women's rights demonstrations on the same day across the country, in cities such as New York, Washington D.C., Los Angeles, Chicago, and San Francisco. Among the thousands of protesters were several Southern Lehigh High School students.
"I was and am still tired of the great deal of inequality that surrounds women, people of color, the LGBTQ+ community, immigrants, and the lower class," senior Katia Deutsch said. "I decided to turn my white-middle-class guilt [into] anger and do something about it."
According to the Women's March website, "The mission of Women's March is to harness the political power of diverse women and their communities to create transformative social change…Women's March is committed to dismantling systems of oppression through nonviolent resistance and building inclusive structures guided by self-determination, dignity and respect."
"There are so many women out there who need empowerment, and I as a female am obligated to help other females," senior Kyra Salamon said. "I am passionate about protesting because when there is an issue that many people feel strongly needs to be fixed, we have the power to do so. Marching was invigorating and I have never felt more empowered in my life."
There were 11 speakers at the march in Philadelphia. Vashti Bandy, a regular attendee at Tuesdays with Toomey flagship protests, spoke about leading the persistence. Jenny Entin, a computer science student at the University of Pennsylvania, spoke about women in engineering.  Pauline Thompson Guerin, a member of the Philadelphia Veterans for Organization, spoke about veteran women and sexual assault.  Amy Gunzelman, a 17-year-old senior at Spring Grove High School in Spring Grove, Pennsylvania, spoke about being persistent in her community. Michele Leahy, spoke about women with disabilities. Jamie Perrapato, a member of Turn PA Blue, spoke about electing more Democratic women to the Pennsylvania state house. Melissa Robbins, member of Emerge PA and NOW, spoke about "Staying Committed and Being the Change," and Barbara Wittman spoke about bullying.
Among the speakers were several writers and musicians. Marguerite Sexton performed her original public inspiration chant "We Are One." Daejah Vaughn, a 15 year-old spoken word poet, shared one of her own pieces. Voices Rising Philadelphia, a community chorus of women and men committed to social justice and motivating people to resist, also performed.
"[The atmosphere of the Women's March was] loving and warm," Deutsch said. "All of the wonderful women, children, and men that I spoke with at the march were kind and compassionate. They were all there because they were unhappy with the world that we live in and were determined to change [it]."
Last year, the first year of the Women's March, the aim was to send a message to the executive branch about the need for equality. This year's Women's March comes as a record number of women seek public office and the #MeToo movement arises against sexual assault.
"What I took away from this protest was an overwhelming sense of hope for the future, and the feeling that I am not alone by any means," Salamon said. "There are so many thousands of men and women who feel as strongly as I do, and will sacrifice so much for equality, which I feel is the most important aspect in any society."
Nationwide, the Women's Marches are much broader than just an anti-Trump march. According to the Philly Women Rally, gender inequality goes far beyond Trump's presidency. The organizers of the Women's Marches recognize that gender inequality is a societal issue that has been prevalent for centuries, and the marches are focused on positive messages from inspirational men and women. This year, the main takeaway is to "Resist. Persist. Rise."
About the Contributor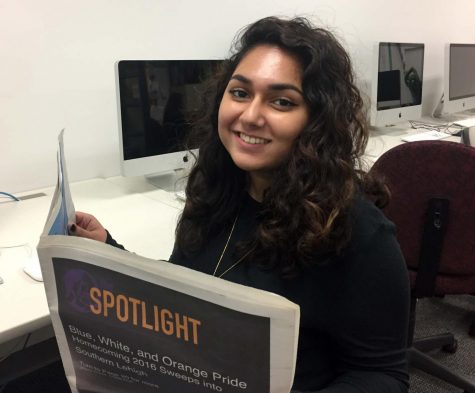 Izza Choudhry, Opinion Editor
Senior Izza Choudhry is a four-year staff reporter and former one-year copy editor and one-year news editor, now serving as opinion editor for the Spotlight....