Where Are They Now? Tyler Pino
Hang on for a minute...we're trying to find some more stories you might like.
All high school students face the difficulty of choosing a career path or college. However, most students eventually have a single "lightbulb" moment, in which they realize their true passion. The same goes for 2010 Southern Lehigh graduate Tyler Pino. It was not until he was given the option to work on a video project for an AP history class that he discovered his love of video production, leading him to graduate with a Bachelor of Science in Digital Media Production from Florida State University.
"I had never edited or shot a video before, but as I started to learn the software, I became fascinated with how you could tell a story through a video production," Pino said. "I did not have any other career passions at the time, so I figured, why not?"
Pino now works for the New York Jets, and produces and edits a weekly CBS show called "Jetlife," which allows fans to witness players' "off-the-field personalities" through mini documentaries.
"Many times we ask them to open up about hardships and challenges growing up, and when they appreciate the results of their labor, it feels gratifying," Pino said.
Along with the excitement of working with professional athletes, it is the rewarding "thank you" from a player that Pino enjoys the most, along with the traveling of course. He traveled with the Jets to London, England, and spent time in Turks and Caicos to video a cheerleader calendar production.
Out of all the stadiums Pino has seen, Lambeau Field, home of the Green Bay Packers in Wisconsin, is by far his favorite.
In high school, he was part of the golf team all four years and played basketball until sophomore year.
"He was a popular kid who was relatively quiet in class and on the golf course. He was always a hard worker and a super nice kid," math teacher and golf coach Mr. Matthew Greenawald said. "He was the youngest of the three Pinos that I taught. I looked at his LinkedIn, and he is obviously doing really well, and I am proud of him."
In Pino's eyes, the key to happiness is not a high paying job, but a job that suits your passions, because in the end, your love for the job is worth more than the money.
"I'm happy I picked a career for which I had a passion rather than pursuing a job that would pay more," Pino said. "If you love what you do, everything else falls into place."

About the Writer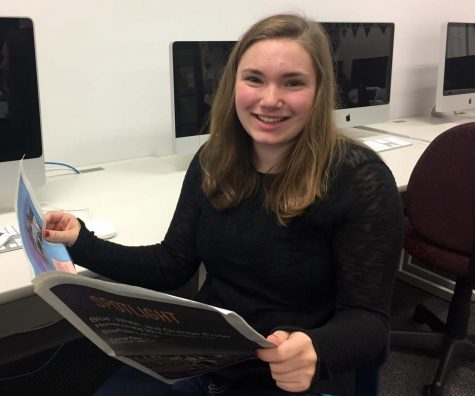 Danielle Alpert, News Editor
Senior Danielle Alpert four-year staff reporter and former two-year center spread editor, now serving as news editor for the Spotlight. In addition to...