How the Shooting Survivors of Parkland, Florida Sparked a Student Revolution
Hang on for a minute...we're trying to find some more stories you might like.
On February 14, 2018, at 2:21 p.m., 19-year-old Nikolas Cruz, armed with an AR-15, fired 100 rounds at Marjory Stoneman Douglas High School in Parkland, Florida, killing three staff members and 14 students and injuring 16 others. By February 18, 2018, the student survivors had started a revolution: the #NeverAgain movement, which petitions for more thorough background checks for potential gun buyers and a ban on "military grade weapons," as well as a plan for a nationwide protest on March 24 in Washington, D.C., the "March For Our Lives."
"School safety is not a political issue. There cannot be two sides to doing everything in our power to ensure the lives and futures of children who are at risk of dying when they should be learning, playing, and growing," the March For Our Lives mission statement said. "The mission and focus of March For Our Lives is to demand that a comprehensive and effective bill be immediately brought before Congress to address these gun issues. No special interest group, no political agenda is more critical than timely passage of legislation to effectively address the gun violence issues that are rampant in our country."
"I think [school shootings] are definitely a problem, and students shouldn't have to fear for their safety when coming to school," Spanish teacher Ms. Jessica Swartz said. "We just haven't really taken any course of action to solve the problem, and in other countries they have had school shootings and have made changes that worked for them."
"Students come to school everyday with the expectation that they're safe. Where students don't feel safe or have concerns, I fully support students getting involved, and advocating, and being change agents," Southern Lehigh superintendent Mrs. Kathleen Evison said. "Our students are going to deal with these issues long after the adults are, and they need to be part of shaping that direction, and they're the future voters and the next wave."
Stoneman Douglas student co-founders of the Never Again movement and the March For Our Lives went viral in the aftermath of the shooting as they independently contributed to the conversation around gun violence in American schools.
Cameron Kasky, 17, in an op-ed for CNN, stated that he was "asking — no, demanding — we take action now," and accused politicians of abandoning students by "failing to keep guns out of schools."
Emma Gonzalez, 18, tearfully addressed a gun control rally on February 17 in Fort Lauderdale, Florida, starting the chant, "We call B.S." in response to Americans who do not cite guns as the main problem. She declared that Stoneman Douglas will be "the last mass shooting," and that its students will be "the kids you read about in textbooks" due to their activism.
"When it comes to the movement being led by students at Marjory Stoneman Douglas High School, I support their First Amendment right to protest and to move forward with what they are trying to accomplish," senior Alex Milios said. "With that being said, they should respect my Second Amendment rights since both are enumerated in the Bill of Rights and both should be weighted the same in the public sphere."
Stoneman Douglas student journalist David Hogg, 17, huddled quietly in a dark closet with fellow students as the active shooter roamed the hallways of their school and people whispered goodbyes to their parents on emotional phone calls. Eventually, recognizing the need to document such a moment, which could have been their last, he pulled out his phone, interviewing students who expressed the sense of sheer terror they felt, begging for the implementation of reforms to prevent another mass shooting.
"I call on the legislators of this country to take action and stop this from happening. Thousands have died from gun violence and it's time to take a stand," Hogg said during the video. "Take a stance for human lives, children's lives."
Students from all over the country listened to these passionate calls for action and expressed their own ideas.
"Guns need to be regulated. No change is going to be made until guns are not able to be bought almost effortlessly," junior Christine Reichard said. "All assault-style weapons should be illegal in the hands of the public because an average citizen has no need for them, and there are absolutely no instances in which they are helpful."
"It is important to enforce the current [gun regulations] we have on the books before we talk about enacting new laws. Creating new laws does nothing to stop criminals if the laws are not enforced," Milios said. "The federal background check system is flawed and needs to be modernized and made more efficient. [This is] something the vast majority of Americans agree on and [that is] totally in-line with the second amendment."
On February 21, CNN hosted a town hall that allowed survivors and affected family members to directly confront Senator Marco Rubio, Senator Bill Nelson, Representative Ted Deutch, Broward County Sheriff Scott Israel, and National Rifle Association (NRA) spokeswoman Dana Loesch with their concerns regarding gun violence.
Fred Guttenberg, who lost his daughter, Jaime Guttenberg, 14, in the massacre, asked Senator Rubio to admit that guns "were the factor in the hunting of our kids." Kasky asked Rubio to stop accepting campaign donations from the NRA.
That same day, President Trump, Vice President Mike Pence, and Secretary of Education Betsy DeVos hosted a listening session at the White House for feedback on how to prevent school shootings and increase security. Later, President Trump backed arming school teachers as a security measure.
"I'm very angry that this happened, because it keeps happening … How many schools, how many children have to get shot?" Andrew Pollack, who lost his daughter, Meadow Pollack, 18, in the shooting, said at the listening session. "It should have been one school shooting and we should have fixed it. And I'm pissed, because my daughter I'm not going to see again."
Students and teachers nationwide have been similarly mobilizing, organizing, and taking action in response to Parkland pleas and protests.
"These movements being led by students is a pretty big social experiment, but we have seen in the past that it's been young people that push for change, and that those movements, although hard and long, have eventually worked out," social studies teacher Mrs. Katie Quartuch said. "I'm a civics teacher, so this is kind of a dream come true for me because I've always thought that young people need to take the reins more. I'm also glad that adults are seeing how smart and interesting kids are. I don't think people outside of teaching understand how capable you actually are, so I think this is a huge moment for you guys."
"Students are finally realizing that they have the power. When we speak out together and put our foot down, people listen. We're getting harder to ignore," senior Emma Duane said. "We need to continue to get involved. For the first time in a while, I see the possibility of change happening down the road, and that's because our generation is driving the car."
Lane Murdock started a petition on change.org calling for a national school walkout on April 20, the anniversary of the Columbine High School massacre. As of March 1, the petition had over 235,000 signatures.
Another school walkout set for March 14 organized by Women's March Youth EMPOWER calls for students, teachers, and school administrators to walk out for 17 minutes at 10 am: one minute for each victim killed in the Parkland shooting.
"[Southern Lehigh School District administrators] do not want to create an official protest, because that defeats the point of the student-led movement, but we're here to support [students] and to provide safety and guidance as you need it. We have absolutely no intention of disciplining students who participate at all; we encourage their expression, we just want them to be safe," Mrs. Evison said in relation to student plans for a walkout at Southern Lehigh High School. "I [also] just want to make sure that those students who don't want to participate or who have a different opinion also feel comfortable and respected, and that students from all sides can choose to express themselves."
Stoneman Douglas student activists have also sparked a seemingly long-needed, although heated, conversation about school safety and gun violence in the United States.
"Schools need to be as secure as possible. Metal detectors, ID-access cards … armed police officers or competent, trained, and armed teachers. It is inane and wishful thinking to believe that a federal ban on assault weapons would stop crazed people from going into schools and shooting children," Milios said. "The deadliest modern school shooting in America, Virginia Tech, was committed with handguns. The last line of defense against these evil and disgraceful murders is for schools to have some way to fight back."
"I honestly think the most effective course of action to maximize safety from gun violence in American schools is offering a lot more emotional and social support for kids. I'd even support a mentorship system," Mrs. Quartuch said. "Maybe one teacher takes 25 students, and they check in with them once a week to make sure that everyone's okay, and then get them the resources they need if they're not. And it might be naive, but I think that is the number one issue in terms of all types of gun violence with young people."
And while students have been fervently demanding that politicians and school administrators take action to maximize safety, the whole nation has been listening intently.
"We have plans in place for a whole range of emergencies that are reviewed, at minimum, annually, and every time there's an incident, or we have a drill, or there's something as happened in Parkland, we go in and do another review. We also have an excellent relationship with the Upper Saucon Police Department, so we work closely with them and get their input on student safety matters," Mrs. Evison said. "Another big piece of school safety is social, emotional safety. We're constantly working with our counselors, getting feedback from our students, and trying to identify students who may need extra supports and provide additional counseling to those students who may be struggling. If students feel a part of a community, then I think we create a much safer place for all of us."
If you notice suspicious changes in one of your friends or disquieting behavior in another student, do not hesitate to communicate your concerns to a teacher or administrator.
"We really need our students and our staff to be comfortable speaking up. Let staff know what's going on. If you have concerns about other students or something comes to your attention, or you hear something, report those things to staff," Mrs. Evison said. "We can make sure those situations are investigated and every student is given the support they need."
To sign the March For Our Lives petition, visit https://www.change.org/p/u-s-house-of-representatives-march-for-our-lives-we-demand-action-to-stop-the-shooting-and-killing-in-our-communities.
To sign the petition for a National School Walkout on April 20 in remembrance of Columbine, visit https://www.change.org/p/u-s-senate-national-high-school-walk-out-for-anti-gun-violence.
If you will be 18 by the November 6, 2018 midterm elections, visit https://www.usa.gov/register-to-vote to register to vote.

About the Writer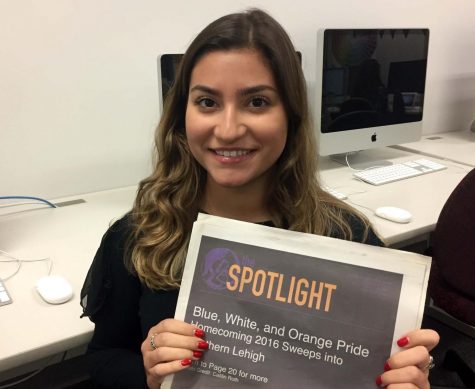 Sarah Trebicka, Editor-in-Chief
Senior Sarah Trebicka is a four-year staff reporter and former two-year Our World editor, now serving as editor-in-chief for the Spotlight. In addition...