Michelle Obama Inspires Feminist Student Union Members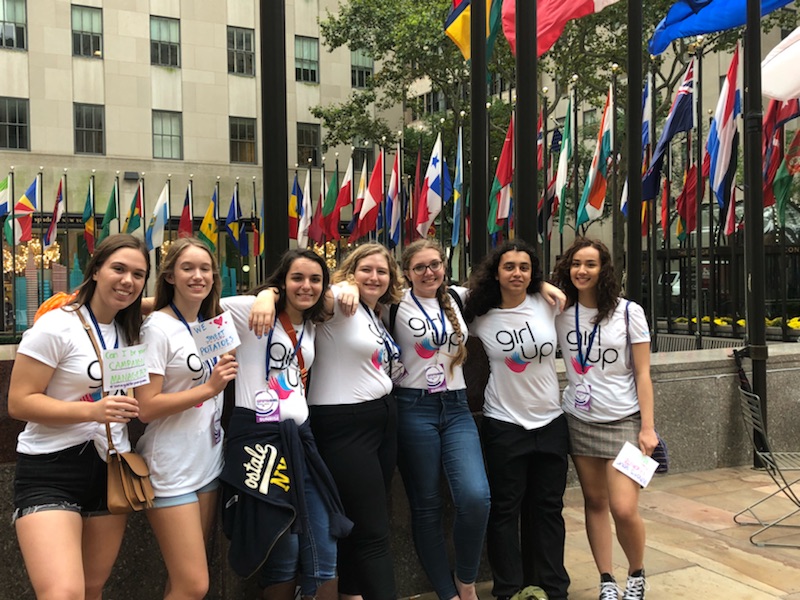 "Change is not a direct smooth path, there's going to be bumps and resistance," former first lady Mrs. Michelle Obama said.
On October 11, 2018, members of Southern Lehigh's Feminist Student Union embarked on a journey to New York City for the experience of a lifetime. Along with three of the Spotlight editors, seniors Hannah Grim, Erin Noneman, Sana Gold, and sophomore Ava Lang saw former First Lady Mrs. Michelle Obama speak on NBC's TODAY show for the International Day of the Girl.
In 2011, the United Nations created the International Day of the Girl Child to unite activist groups in order to "help galvanize worldwide enthusiasm for goals to better girls' lives, providing an opportunity for them to show leadership and reach their full potential."
"For me, [International Day of the Girl is] recognizing that women are powerful and that girls all around the world should have opportunity," senior Hannah Grim said. "All girls should the same access to education as their male counterparts."
Prior to the event, Girl Up, an international organization sponsored through the United Nations, received a special invitation from the former First Lady herself to hear her announcement live. Feminist Student Union members immediately pounced at the opportunity to attend with Girl Up and be a part of a nationally broadcasted event.
Preparation and planning began at Spartan period meetings. Our club made #girlhero signs in support of Girl Up's most recent campaign. Less serious sign ideas also made the cut, like, "What's your favorite fall vegetable?" and "We love sweet potatoes."
We arrived at the Rockefeller Plaza to congregate with other Girl Up members and recieve Girl Up t-shirts. After waiting in line for around two hours, we entered the much-anticipated event to watch Mrs. Michelle Obama, along with Kelly Clarkson, Jennifer Hudson, Meghan Trainor, Zendaya, and Karlie Kloss, hit the stage.
"I loved breathing the same air as Michelle Obama!" sophomore Ava Lang said. "It tasted fresher and more organic."
Throughout a series of interviews dispersed with music, Mrs. Obama spoke about diffusing partisanship for a common cause. Her inspiration behind her campaign was creating an environment she would want her two daughters to live in.
"Fear is not a proper motivator," Mrs. Michelle Obama said. "Hope wins out."
She has only exemplified her own ideas about crossing the bridge. In her interview with Jenna Bush Hager, Obama referred to former President George W. Bush as her "partner in crime."
"I learned that it is important to get out there in the world every once in a while, and meet some other folks and talk to them about your common goals and interest," senior Sana Gold said. "You can accomplish more as a team."
Later on in the interview, Mrs. Michelle Obama revealed the launch of her Global Girls' Alliance campaign through the Obama Foundation. Both national and international organizations, like Girl Up, will benefit from the new funding and resources. Obama remains positive and hopeful for the future of women across the world.
"When you educate a girl you educate a family, a community, a hundred," Mrs. Michelle Obama said.
Several talented performers such as Kelly Clarkson, Meghan Trainor, and Jennifer Hudson sang after Mrs. Obama's interview. Zendaya and Karlie Kloss also was in attendance to show her support of the day. Each of the celebrities were there in support of Mrs. Obama and her mission to educate young women around the world.
The knowledge and sense of unity we experienced during the event proves to be inspiration for creating a more accepting environment in Southern Lehigh. Feminist Student Union hopes to utilize the stances that Mrs. Michelle Obama took in their education and fundraising campaigns.
"I think something that I learned that I could bring back to Southern Lehigh is putting aside political and social differences," senior Erin Noneman said. "We need to recognize that we are all a part of the problem, when we should be a part of the solution."
About the Contributors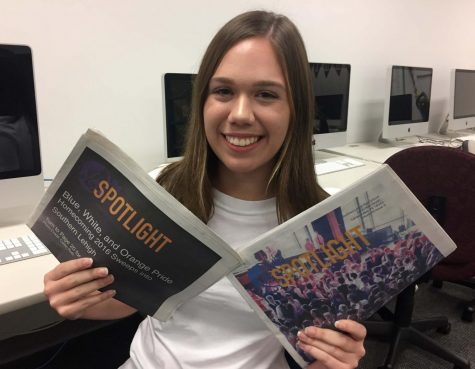 Bridgette Lang, Opinion & Our World Editor
Senior Bridgette Lang is a third-year staff reporter and former features editor, now serving as opinion and our world editor for the Spotlight. In addition,...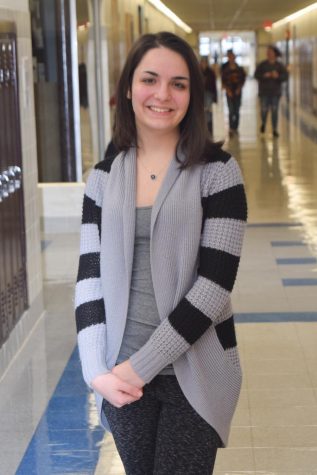 Kennah Salvo, Features Editor
Senior Kennah Salvo is the features editor and a third-year staff reporter and former news editor for the Spotlight. She is a member of the Feminist Student...