Light Up Limeport Shines Light on Childhood Cancer
On May 4, 2019, Southern Lehigh baseball faced Saucon Valley at the historic Limeport Stadium, to come together for the greater good. "Light Up Limeport" first occurred 10 years ago to support 2009 graduate Dave Ortwein, a former SLHS baseball player, and two-time cancer survivor Reagen Amand, who is the girl behind Adopt-a-Pig, as they battled childhood cancer. Today, they are recovered, but the anniversary game honors a new generation of those battling cancer.
"We decided to do Light Up Limeport to raise money but also to raise awareness for pediatric cancer in general," assistant baseball coach and math teacher Mr. Matthew Greenawald said. "[This year's Light Up Limeport] of course is 10 years later, and [Dave Ortwein] is doing wonderful. However, there are many kids affected by pediatric cancer everyday, so we decided to do a tenth anniversary of that and raise money for three local foundations."
The baseball team brought the issue back home by inviting in special guests including Ortwein, Amand, and 10-year-old Lizzy Fluck, who was recently diagnosed with leukemia, to throw the first pitches in the game. Lizzy's father, Bob Fluck, is a current Southern Lehigh teacher at JPLIS, and a former pitcher for the Spartans. The game honored affected families, warriors (survivors), fighters (people going through cancer), and angels (those who passed away).
On both teams, players and coaches Mr. Todd Miller, Mr. Matthew Greenawald, Mr. Casey Cooperman, Mr. Spencer Cameron, and Mr. Eric Boyer wore jerseys to represent someone in the community affected by cancer, including grandparents, classmates, and Southern Lehigh's Jillian Massey, who passed away in 2017 at the age of five. Names of the honorees were printed on the back of each jersey.
"The players all had jerseys sponsored by someone that had the name of a cancer survivor or someone who had cancer, so we tried to raise money [by working with the community and businesses] to get the jerseys," senior team member John Coyle said.
Southern Lehigh won the game 4-0 with help from senior pitchers Stephen Hoyer and Andrew Lievendag. Other highlights included competitions between innings such as a water balloon toss, and races with "Sparty" the mascot.
Aside from the healthy competition, the team raised over $34,000 for childhood cancer research and funding. The donations were split between Sassey Massey Smiles Foundation, Adopt-a-Pig, and Angel 34. Money was raised by community donations, gift basket donations, jersey shirt purchases, and sales at the game.
Sassey Massey Smiles was created by the Massey family to create fun and happy play experiences while children are receiving treatment. Adopt-a-Pig provides families support by distributing Coping Kits that include travel supplies and funds. Angel 34, which also is connected to the Angel 34 club at SLHS, is a non-profit organization that runs fun activities for childhood cancer patients and supports families with funding and other support through their battles with cancer.
Light Up Limeport was also the last home game of the season for the Southern Lehigh baseball team, so the seniors made the most of it. John Coyle, Logan Edmond, Stephen Hoyer, Andrew Lievendag, Dalton Musselman, and Jacob Stanten performed a dance routine between innings.
Light Up Limeport was definitely a meaningful way for the Southern Lehigh baseball team to finish up their season before heading to districts, and a meaningful way to give back to the community.
About the Contributor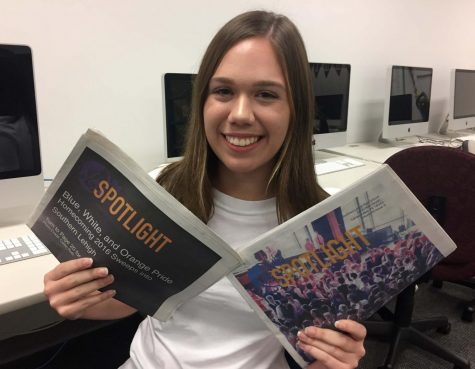 Bridgette Lang, Opinion & Our World Editor
Senior Bridgette Lang is a third-year staff reporter and former features editor, now serving as opinion and our world editor for the Spotlight. In addition,...