The Spartan Life Kicks Off to a Lively Start
A podcast may not be something you'd expect from a duo consisting of a high school English teacher and a math teacher, but you'd be wrong. Since its release in September, the new podcast "The Spartan Life" has taken over Southern Lehigh High School.
The idea originally sprung from English teacher Joseph Castagna and math teacher Ryan Haupt's mutual interest in listening to podcasts. Two years ago, the two teachers came together and brainstormed ideas for making their own. Making a podcast stemmed from their shared love of talking to new people, so it seemed like a natural step for a new extracurricular.
However, taking on the production of a podcast proved to be no easy feat. As scheduling conflicts arose and the idea struggled with getting approval, the podcast was put on the backburner.
"There was a lot going on in the building last year. We were focused on other priorities and we didn't get the support we were hoping for to get it off the ground," Mr. Castagna said, "so we're really happy that we were able to get everything up and running this year."
With strong support from the administration, Mr. Castagna and Mr. Haupt were finally able to begin production at the beginning of the school year. The first episode was released on September 21. Since then, episodes have been released twice a month.
A lot of time and energy goes into the production of the podcast. According to Mr. Castagna, each episode takes about six hours to produce. Once they brainstorm ideas and set a theme for the podcast, they schedule interviews. Each interview with an individual guest can last anywhere from 20 to 40 minutes.
"[The hardest part is] deciding what goes on. What you're hearing on the podcast is not necessarily even the same order that we ask the questions in," Mr. Haupt said. "Editing the interviews so it doesn't sound like we've cut parts out [is difficult]. It has to have a logical flow to it."
With the podcast only a few months into production, the format is still undergoing changes. Most notably, the length of each episode has steadily increased from under 30 minutes to about 45 minutes long.
"At the beginning, we said in the intro that we were going to 'get through all this in 30 minutes or less.' I think we have succeeded at that exactly one time," Mr. Castagna said. "We just follow the story wherever they go, no matter how long it takes us."
In an effort to get the school more involved, Mr. Castagna and Mr. Haupt are also expanding the podcast to include new, student-made segments. Starting in the second semester, students will be able sign up for a "Spartan Life" spartan period and audition.
Auditions are open to all students, no matter their level of experience. To apply, they have to submit a fully edited sample of a new segment or interview. If it is approved, the students will have the freedom to continue making content for the podcast alongside Mr. Castagna and Mr. Haupt.
"I'd like to see students involved in new segments, interviewing their peers and having the same wonderful experience that Mr. Haupt and I have been having, which is just to getting to know people on a deep, human level," Mr. Castagna said.
The two teachers believe that media forms like the podcast have the potential to bring the school communities together. Since the audience of "The Spartan Life" is almost entirely Southern Lehigh students, creating episodes that focus on stories of their classmates and teachers gives the podcast a unique perspective.
Each episode typically features at least one student and one teacher guest. Although each podcast has a broad theme or message, Mr. Castagna and Mr. Haupt give their guests freedom to share as much as they'd like. Looking into the future, they aim to tell the interesting stories of as many students and teachers as possible.
"I loved doing the podcast," junior Marissa Harley, who was recently interviewed about her role in the fall musical, said. "It was so fun to be able to talk about about doing something that was so close to me. It was such an amazing experience."
Mr. Castagna's favorite part about making the podcasts are the moments of natural conversation with high schoolers he experiences through the interviews. He looks forward to working alongside students to grow the podcast into something that accurately reflects the positivity in the school.
"I really love falling into someone else's story, to get to know that person as a person and finding the common allies that make us all human," Mr. Castagna said. "I just love putting that all together to figure out what is the human experience. That's really exciting."
About the Contributor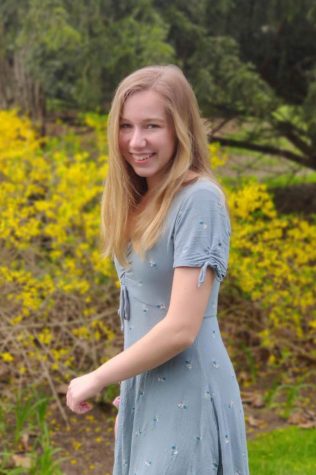 Saskia Van't Hof, Editor-in-Chief and Opinion Editor
Saskia Van't Hof is a fourth-year staff reporter and second-year Editor-in-Chief and Opinion Editor for the Spotlight. She is also president of Key Club,...