Southern Lehigh Welcomes New Assistant Principal: Mr. Chad Kinslow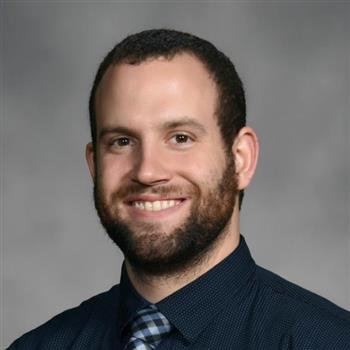 Although the building had not yet fully opened its doors to students this fall, that hasn't stopped Southern Lehigh High School from welcoming the new assistant principal Mr. Chad Kinslow to the faculty. Following Mr. Thomas Ruhf's reassignment as Southern Lehigh School District's Pandemic Coordinator, Mr. Kinslow was hired to fill the administrative role at the high school during this unprecedented year.
"I haven't really gotten a chance to interact with a lot of students, but what I've gathered so far is that Southern Lehigh is very student-oriented," Mr. Kinslow said. "I'm very excited to be part of such a welcoming and engaged school community."
Prior to coming to Southern Lehigh, Mr. Kinslow spent a year as the assistant principal of Francis D. Raub Middle School in Allentown. Prior to that, he was a social studies teacher in Virginia. 
Becoming a vice principal wasn't always in the plans for Mr. Kinslow. As a first-generation college student, Mr. Kinslow felt pretty lost in terms of career goals in his teenage years.
"When I was in high school nobody in my family had gone to college, so I didn't have much of an idea what college was like," Mr. Kinslow said. "So when I was put in that position, I was looking for what would make me the most money in the least amount of time — naturally, I did not choose teaching."
Originally, Mr. Kinslow attended the University of Pittsburgh as an engineering major. After realizing that a STEM career was not what he wanted, Mr. Kinslow fell in love with the field of history, as well as working with children through summer camps and coaching. He ultimately graduated with a B.A. in History and a M.A.T. in Social Studies Education. 
Throughout his career as a history teacher, Mr. Kinslow felt that he chose the right major after all. Wanting to be even more involved with the education system, Mr. Kinslow earned his Ed.S. and Principal Certification from Old Dominion University. He has always aspired to work in a high school.
"I like the high school student age group because you all are starting to come into your own and figuring out what makes you you, and I've always loved that," Mr. Kinslow said. "It's a great grade level to work with because you have so many ideas and only need a little push to get the ball rolling."
Throughout his experience working at high schools in Virginia and Pennsylvania, Mr. Kinslow has been a National Honor Society advisor, a lacrosse coach, and a MiniThon sponsor. Although he hasn't had the chance to see all of Southern Lehigh's student activities, he is enjoying working alongside the high school staff and engaging with students where he can.
"Mr. Kinslow is great," high school principal Mrs. Beth Guarriello said. "He's a real go-getter, and he comes with a wealth of knowledge even though he's very young. It feels like he's been here forever and he fits very well into the team at the high school."
Mr. Kinslow's biggest goal this school year is to come out of the year knowing that he did everything he could for our school. The most important thing to him seems to be his relationship with the student body.
"I'm really looking forward to having actual conversations with students and getting to know you better," Mr. Kinslow said about students returning to the building. "To see what students' goals and dreams are, and how I can help you achieve those, whether at Southern Lehigh or in the future."