Ten Athletes Commit at Winter Media Day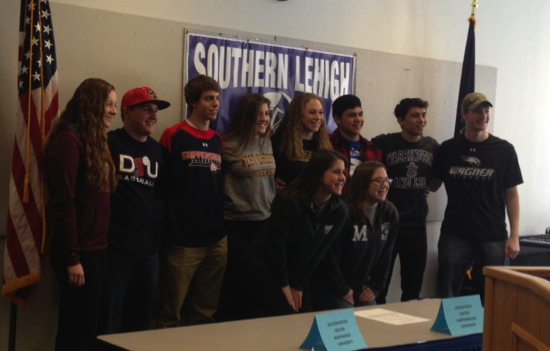 Hang on for a minute...we're trying to find some more stories you might like.
The senior year for America's elite high school athletes can be a stressful and exciting time for the athletes and their families. Letters pour in from colleges big and small, highlight tapes are viewed, pros and cons are weighed. Colleges you have never heard of are trying to acquire your talents. This is the world of college athletics recruiting. So far this year, ten Southern Lehigh student athletes have braved the recruiting storm and decided where to take their talents.
Travis Edmond will be bringing his sharp football mind, quick feet, and powerful arm to to division one FCS school Wagner College on Staten Island in New York.
"He has a passion for football that I've never seen before," head football coach John Toman said.
According to Coach Toman, Edmond leaves as one of the best quarterbacks in Colonial League history. Last season, Wagner football only averaged 134.9 passing yards per game, whereas their opponents averaged 198.2. If Edmond can earn the starting job, he is posed to make an immediate impact on Wagner's offensive game. Edmond plans to major in bio psychology.
Southern Lehigh will send another football player into the world of college athletics in the form of guard/linebacker Kolbi Harding. Harding will attend Becker College, a division three school out of Massachusetts. Becker College went 1-9 last season. This gives Harding an opportunity to shine in an offense, as a guard, or even a fullback. If the coaching staff opts to use him as a linebacker, they will get a smart, powerful, hard hitting player. Harding plans to study graphic design.
Southern Lehigh will send its own Preston Amato less than two miles away to play shortstop for the Desales University Bulldogs. Amato is to baseball what a grinder is to hockey. He will do whatever it takes to win.
"If it took him playing left field to get on the field, he would do it,"  assistant baseball coach Mr. Matt Greenwald said.
His coach described him as a player who will get dirty and play scrappy. Amato has an opportunity to step into a starting role early in his career, as the Bulldogs' starting shortstop got injured early last season and didn't play again. One of Amato's favorite high school baseball memories is volunteering with Miracle League, and due to the locality of his selected college, he will still be able to volunteer. Amato plans to study sports management at DeSales.
Southern Lehigh soccer is sending one female player on to the next level. Alyson Moyer will be taking her talents to division three Marywood University. Moyer has made 264 saves in her career for Southern Lehigh. She could have had more if she hadn't been plagued by injury.
"We knew every game might be her last time stepping on the field," Coach Doug Roncolato said about the injury.
Marywood is a high scoring team who scored an average seven goals per game last season. Moyer will join a solid goaltending unit made of Emily Osborne and Victoria Pezdirtz. She will, however, have a chance to start considering the numbers she put up in high school.
Spartan boys' soccer will be sending Logan Koch to division two Shippensburg University. Koch is a leader on and off the field. He is the vice president of Key Club and a captain of the soccer team.
"It's like having a coach on the field," Coach Terry Neville said of the midfielder who he considers to be one of the best in the Colonial League.
Koch should be a big addition to a Raiders' roster, who went 6-9-2 last season and scored on loss than 10 percent of their shots on target. Koch will go to Shippensburg with the hope of studying psychology.
Marywood University will acquire softball player Hannah Docalovich. According to Coach Brian Neff, Docalovich started out with the team as what he called "a zero." Little did he know that she would become a four-year starter at second base for the Spartans. Docalovich will be joining a team with high aspirations after Marywood went 24-13 last season. She will get playing time early in her career, considering the team's current starting and backup second baseman are both juniors and will have graduated by the end of Docalovich's freshman season. She plans to study photography and hopes to eventually work as a photographer for National Geographic.
One of the biggest names coming out of Southern Lehigh this year is Jenna Forrester. Forrester will be taking her talents in the pool to the US Military Academy,  a division one swimming team. The US Military Academy at West Point is one of the most prestigious schools in the country. In order to get in, you need a congressional appointment, and even after that only nine percent of applicants are accepted. Forrester is a three-time district champion in the 50 freestyle, all state in five events, and holds five school records. Army has become a very good team recently. Forty percent of the all-time record holders for Army were on the 2014 team. Forrester plans to be very committed to the Army; after her mandatory service, she plans to continue serving because she believes that she owes the Army for giving her a free college education.
Another standout swimmer will stay a little closer to home. Raechel Rodriguez will be swimming for the Kutztown Golden Bears. Rodriguez is a leader both on the swim team and on dry land. She volunteers at her church and is admired by her coach for embracing the freshman swimmers. Rodriguez has competed at states for Southern Lehigh and holds the school record for the 100 breast-stroke. She has the potential to make a big impact on a severely underperforming Golden Bears team who finished 11th out of 13 teams in conference play this past season, and 12th the last two seasons.
Jason Renner will be traveling south to Virginia to play tennis for the division three Washington and Lee University Generals. Renner is one of Southern Lehigh's top tennis players. He is 11-5 all time in doubles for the Spartans. Washington and Lee will also be gaining a very bright student with a 4.05 GPA. The Generals have an elite division three tennis team who finished 7-0 in conference play last season. However, if Renner plays anything like he did in high school, he should match up as one of the school's top doubles players, considering this past season's top team is also 11-5 all time. Renner plans to study political science and finance.
Jillian Grammer plans to head closer to the city to play volleyball for West Chester University. Grammer comes from a family of successful Southern Lehigh volleyball players as she is the third and last of the Grammers. She has been a very important piece to the puzzle throughout her four years as a Spartan, holding the school record in all time assists and helping to win the 2013 District XI title game. She has also been named to the Under Armour All-American Watchlist during her career. Grammer's assists will become an important part of a successful West Chester team who had 1299 assists last season to their opponents' 1315; that may not seem by much, but in a close game every detail counts.
Southern Lehigh will be letting go of some top class athletes this year. These ten players will leave Southern Lehigh as dominant players in dominant programs.

About the Contributors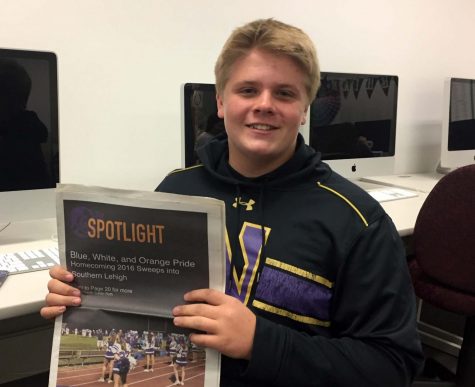 Townsend Colley, Sports Editor
Senior Townsend Colley is a four-year staff reporter and third-year sports editor for the Spotlight. In addition to writing for the newspaper, he plays...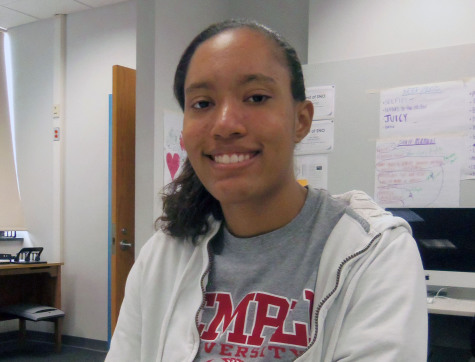 Sarah Marks, Staff Reporter
Sarah Marks was a member of the Spotlight staff for one year.  After taking the Introduction to Journalism course in the fall, she combined her journalism...