Riding to the Top With Spartan Cycling
Hang on for a minute...we're trying to find some more stories you might like.
Mountain Biking doesn't usually come to mind when thinking about club team sports, but this past year that changed for Southern Lehigh. Junior Ben Forster and Sophomore Austin Collins started the school's first mountain biking team in September. They are the only current members and hope to attract others.
"I have always really enjoyed mountain biking, and [I] have been aware of the National Interscholastic Mountain Biking races in other areas of the country for a while," team captain Forster said. "So when I found out Pennsylvania was starting a league, I knew I had to be a part of it."
The Mountain Biking team is a co-ed sport that is available to anyone who wants the chance to compete. They are sanctioned by the National Interscholastic Cycling Association (NICA), which is a part of the Pennsylvania Interscholastic Cycling League (PICL). Everyone who joins has the opportunity to compete in races.
"The local biking community is coming on board with us, and we already have an agreement with Cutter's Bike Shop in Bethlehem for discounted bikes and support of our team next season," team director Mr. Bill Forster said. "Mountain biking is a great sport, and we are building a great SLHS team."
Mountain biking races occur from September to November, but Forster and Collins were only able to attend a few of the five races this past season. As a school-based club team, they represent and include only Southern Lehigh students, but they do not receive any funding from the school.
"Participating in races is very exciting, the Pennsylvania League does a fantastic job with the organization and execution of each race," Forster said. "Races are an extremely supportive and inviting environment, as everyone there is focused on their love for the sport."
Races are only held on Sundays, so it is possible to be on the team and play a fall sport as well. There are different brackets of coed students, from grades 7-12, racing throughout the day. There are also varying levels of difficulty for each bracket.
"You get there and it is high energy. It really depends on whether or not you've previewed the course, but if you don't know what you're about to get into it is kind of scary," Collins said. "You're questioning why you're riding your bike 13 miles, and then at the end it is fun. It is similar to cross country."
Forster started young with his passion for mountain biking.
"My interest in mountain biking first began with my father, who took me biking with him often at a young age," Forster said. "Eventually [he] took me out to the trails when I was about eight years old, and ever since I have loved the sport."
However, in Collins' case, he's only been mountain biking for two years. His stepfather introduced him to mountain biking, and Collins didn't really enjoy it at first. That was, until he found out about being able to race, go downhill, and jump.
"Mountain biking is a great sport for many reasons. It allows you to get exercise and to experience nature while still having a ton of fun, and it can be as challenging and exciting as you want it to be," Mr. Forster said. "I've been mountain biking on my own for over 15 years now, and I'm excited that it is finally coming as an organized sport to high schools throughout the country.  It is a fun sport that you can do your entire life."
The team seeks to grow in numbers for next year. In the spring they plan to hold informational meetings at the high school, as well as organized rides and skill clinics to help anyone who is thinking about joining. Pre-season practices start in the summer to prepare for the fall season, which starts in September.
"Try it out and see if you like it," Collins said. "There's a little bit of something for everyone when it comes to mountain biking, whether you like to go fast or put yourself through a 13-mile bike ride uphill, or you just like the competition."

About the Writer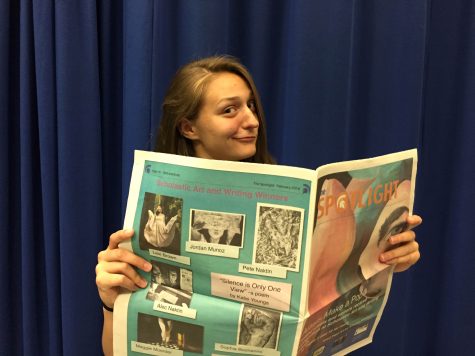 Allison Borelli, Features Editor
Allison Borelli graduates as a four-year Spotlight staff member. She has been a student reporter all four years, and features editor for two.

Outside...