Cross Country Continues Legacy of Success
Hang on for a minute...we're trying to find some more stories you might like.
It's no secret that Southern Lehigh's Cross Country team is good. But this isn't a videogame where you can put all the best players on one team and expect them all to gel together. So what's the secret? The answer can be found in the runners themselves, and their commitment to this team.
"It's very objective. There's nothing really that can get in the way of being good, besides just running faster," junior Marc Ramson said. "In other sports, you have to play defense or offense, or dribble or pass, but this is literally just how fast you can run this course."
The Spartans' success this season isn't just a one-year wonder. In 2014, the team went 12-12, and steadily improved from there. In 2015, they went 25-1, and finished sixth in the District XI championship, with two runners qualifying for states. Last season, the team went undefeated, winning the Colonial League title. They went on to finish second in districts, and every runner finished in the top 50 percent at the PIAA state championship meet.
"There's kind of a legacy going on. And it's transferred each year to the new students. And there's a philosophy among the runners, of pushing yourself as hard as you can, and that's a good thing," senior Colin Cramer said. "I know a lot of teams and a lot of people, they don't want to push themselves too hard. [The cross country team] wants to push themselves as hard as they can, so that's what makes the team stand out."
Senior Thomas Matsumura believes the bond between the runners is a major key to the success of the team.
"If we're going out on a run, nobody's goofing around or anything like that; we have a ton conversations, but everybody holds each other accountable," Matsumura said. "Responsibility is a big thing, especially when you're on a team that one single place could determine whether you qualify for the state meet or get fourth at districts."
The 2017 team rode the momentum of the 2016 undefeated season into this year. They finished the Colonial League regular season with a record of 21-3 at their meets, second behind an undefeated Notre Dame Green Pond team. The Spartans finished second at the Colonial League championship meet on October 18, with Cramer winning the race for the Spartans, finishing only four points behind champions Notre Dame.

About the Writer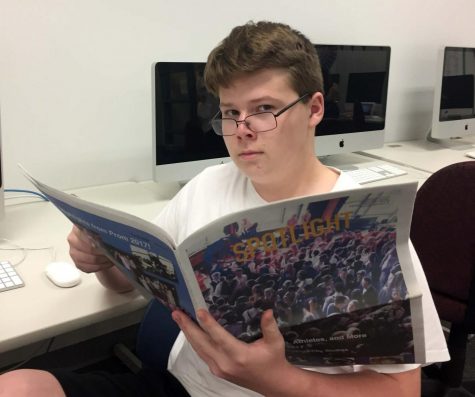 Griffin Schmoyer, Social Media Editor
Senior Griffin Schmoyer is a second-year staff reporter and social media editor for the Spotlight. He has attended Southern Lehigh since kindergarten,...