Seniors Set A Four-Year Foundation For Field Hockey Team's 2017 Success
Hang on for a minute...we're trying to find some more stories you might like.
In the modern day world of sports, the term "super team" gets thrown around quite a bit. Whether you're discussing Kevin Durant and the Golden State Warriors, or Alabama's dynasty under Nick Saban, the now cliched term is everywhere. Depending on who you are, you may condemn these juggernauts or you may believe they're the best things to happen to their respective sports since Michael Jordan hit the court at the Madhouse in Madison for the first time in 1984. Whatever your feelings, one overall sentiment prevails among fans: respect.
Now, after years of establishing themselves as a powerhouse in the Colonial League, the 2017 Southern Lehigh field hockey team has joined the conversation of super teams amongst high school sports circles throughout the Lehigh Valley. With talent at every position, this year's squad is not only one to reckon with, but one to be respected.
Field hockey has traditionally been one of the most successful programs at Southern Lehigh. In the last four years they have a combined record of 60-3-1 in Colonial League play, a record that is matched only by the 2016 state champions of Moravian Academy. Over this time span the Spartans won four District XI titles.
Under head coach Adrienne Searfoss, Southern Lehigh field hockey has produced many talented players and had many winning seasons; however, the 2017 team has the potential to be one of the better teams in recent history. This year's squad is headlined by a senior class that has three Division I field hockey commits in Meghan and Madison Reese and Maddie Arnold, one Division II commit in Lauren Jani, and several returning starters. Together this senior class rounds out a group that has talent across the roster.
The senior class that holds the 2017 Southern Lehigh field hockey team together did not start out as all-league players. As young freshmen in the beginning of the 2013 season, they came out in very large numbers, an attribute that Coach Searfoss believes set the class of 2018 apart from previous classes. The large player pool forced competition among the group as each player forced another to work hard in order to earn playing time. This effort ultimately improved each individual player, as well as the team as a whole.
"They were like a lot of freshmen: very afraid, very open to trying new things, very coachable, and just willing to work, and wanting to be part of Southern Lehigh field hockey," Coach Searfoss said.
While the season ended for these players, the grind did not. In an effort to become something special, several of the members of the class of 2018 played club field hockey year round, where they had an opportunity to hone their skills against top talents from across the nation. Locally, the they established 7v7 tournaments in the spring. Field hockey became a year-round lifestyle, rather than a fall sideshow.
"I think our work ethic is strong. We all push our mental barriers aside," senior Maddie Arnold said. "We might be like, 'Oh, the grass isn't cut,' 'Oh it's really hot,' and then there's like a couple of us who will butt in and be like, 'No, don't even think that, we're gonna be practicing anyway.' So I think it's all in our mindsets."
The squad has developed not only the talent to succeed on the field, but also the chemistry needed for players to trust each other with what they are assigned to do. This basic trust is something that is developed through long, grueling hours spent training together in the off-season, and the results are evident through the team's dominance so far this season; they have outscored their opponents by a score of 53-2.
"Being surrounded by people who are so talented really helps you because it lets you make mistakes, and work hard, or try some new moves…because you know they're gonna be there for you at the end," senior Jessica Grossman said. "If I miss the ball, I know Madison [Reese] is like right behind me getting on it, so I can recover back and help her if she messes up. It's really good; we're like a net and we help each other."
From underclassmen to the vaunted senior class, the 2017 Spartan field hockey team is loaded with talent that has allowed them to cruise through many of their Colonial League matchups. Like in past seasons Southern Lehigh's strongest challenges in field hockey often comes from Moravian Academy. The Spartans had already beaten Bangor who defeated Moravian earlier in the season. Despite this transitive win, the Spartans were not able to overcome Moravian in the early October matchup. As a result the Spartans finished the regular season with a 15-1 record and a number one seed headed into the Colonial League tournament. In the tournament, Southern Lehigh avenged the early season loss by defeating Moravian in the Colonial League championship game by a score of 5-0.  However, much like any super team, they must be able to capitalize against non-league opponents come district playoff time. This season the strong core of senior leadership that has been developed within the Southern Lehigh field hockey program should allow them to perform well into state playoffs.
"It's very rewarding coaching because you get to see the progression from ninth grade to senior year. And the different level of commitment that they then buy into as the seasons go on, and they realize how important all the things are that I'm preaching to them freshman year," Coach Searfoss said. "They finally realize it senior year how important all of those different lessons were."

About the Writer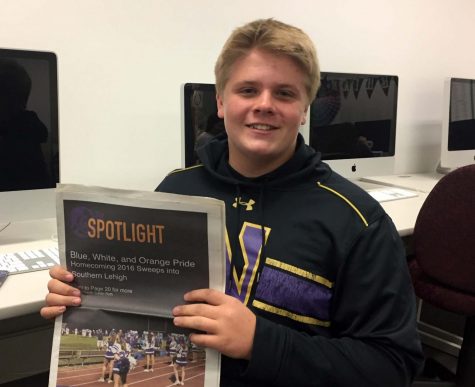 Townsend Colley, Sports Editor
Senior Townsend Colley is a four-year staff reporter and third-year sports editor for the Spotlight. In addition to writing for the newspaper, he plays...