Logan Blondell and Colin Hoff Lead the Way for Spartan Boys Basketball
Hang on for a minute...we're trying to find some more stories you might like.
Come February, Southern Lehigh boys basketball might just set an all-new, unique record: the shortest senior night festivities of all time. For the 2017-18 season, the Spartans only have two seniors on their roster: Colin Hoff and Logan Blondell will be tasked with leading a young Southern Lehigh roster to a Colonial League, and if all goes well for the Spartans, an unprecedented District XI title in what many believe is a rebuilding year.
Following the 2016-17 season, the Spartans lost their entire starting lineup and several key bench players to graduation. Typically, this is not a big deal and generally happens every couple of years; as the story goes, the next season's senior class simply steps up and fills the void.
This season, however, Southern Lehigh does not have this luxury. Instead, they will have to rely on their only two seniors to make the transition from spot starters and role players to big-time players and team leaders. Both Hoff and Blondell have been on the varsity team for several years now, but during that time they were stuck behind several talented upperclassmen on the depth chart, such as Lucas Hudson and Jacob Cassel. This year, they are expected to become the dynamic duo to lead the Spartans, a task for which they have been groomed over the years by Coach Ben Tannous.
"We have to be consistent and always on top of our game," Hoff said. "We have to get on guys if they're not doing their job along with being able to take the heat if we're not doing our own job."
One of the inherent drawbacks to having such a small senior class is that it requires younger players to step up who may not always be ready for the spotlight. However, several common themes mentioned by members of the team include a closer togetherness than in years past and the willingness to put in as much effort as possible.
"The seniors have a lot of good leadership, so them being good leaders and the underclassmen really stepping up, it's not that hard for us fill roles that are usually for seniors," junior forward Logan Edmond said.
Through their years of playing together, Hoff and Blondell are able to play off of each other in ways that other players can't. When on the court at the same time, they are a matchup problem for many of the teams they will face in the regular season. Standing at 6'4, Blondell has the size to overpower many of the big men that he faces in the low post, and the skills to get himself out of a bind against craftier defenders if need be. If Blondell is Karl Malone, then Hoff is John Stockton: a skilled guard with the vision to find the open man in tight windows and the speed and skills to score, coupled with a lengthy frame to complement the stellar defense for which Spartan guards have become known.
The stress these two seniors create on opposing defenses will be even further exaggerated by the up-tempo offense that Coach Tannous plans on utilizing this year.
"Playing with each other is a lot of fun because although we take it seriously, we also like to mess around sometimes and have fun with it together," Hoff said.
While the team lacks depth among the seniors, the same can't be said for the underclassmen. Juniors Quinn Schmidt, Connor Dougherty, Jessie Grewal, Trey Trevis, Johnny Coyle, and Logan Edmond are all expected to get significant playing time this year on a team that ideally plans to go 10 to 12 men deep in each game. Playing alongside Hoff will be his brother, sophomore Kyle Hoff, who is expected to log significant minutes this year as a member of the varsity team. The further development of these players along with many others will be key to fulfilling Southern Lehigh's championship aspirations.
"I think we're more athletic this year, like we can all run the floor. Almost every one of our players can play guard, so we just run the floor and get into transition really well," Blondell said. "As a young team, we're just going to try and grow and take each game one at a time."

About the Writer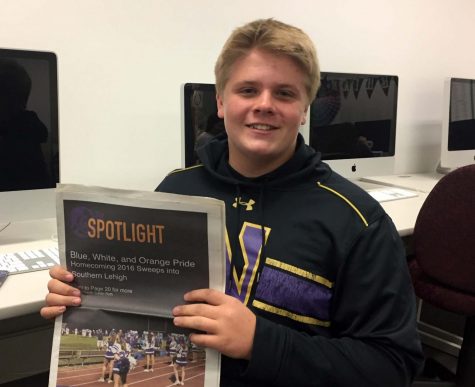 Townsend Colley, Sports Editor
Senior Townsend Colley is a four-year staff reporter and third-year sports editor for the Spotlight. In addition to writing for the newspaper, he plays...