Snyder and Mobley Reach One Thousand Point Mark for Girls Basketball
Hang on for a minute...we're trying to find some more stories you might like.
When it comes to sports, one of the most engaging events to watch is a high-profile offense that can simply demoralize opponents through their sheer ability to score points. These teams are special, and are often led by special players, such as Baker Mayfield, Lebron James, Alex Ovechkin, and Lionel Messi. However, when it comes to Southern Lehigh girls basketball and their once-in-a-generation style of dominance, they have two prolific scorers that have led them to three consecutive undefeated Colonial League seasons: senior Amanda Mobley and junior Olivia Snyder.
Their dominance has transitioned itself from the stats sheets and into the record books, as both Mobley and Snyder have both broken the 1000-point mark this season to accompany an undefeated Colonial League regular season record at the time of publication.
On December 28, 2017, Mobley, a Rider University commit, scored her thousandth career point in a 64-53 victory over Phillipsburg High School in a tournament game. She would finish the game with seven points en route to 1006 career points. During the 2016 to 2017 season, Mobley was named the Colonial League girls basketball MVP, and became the eighth Southern Lehigh player to score 1000 points, the first since Bridgette Dougherty completed her career as a Spartan in 2012, with 1081 points.
"It just felt really good that I'll always have something to remember, like getting my name on that banner. It's just always going to be a cool thing when I come back," Mobley said. "It was really cool that [Olivia and I] both got it in the season and we both knew how the other felt. So we were just so happy for one another."
Southern Lehigh's electric back court duo would add yet another member to the thousandth point club within weeks when Snyder accomplished the same feat. On January 6, 2018, in a regular season matchup against the Northern Lehigh Bulldogs, Snyder scored 23 points en route to her thousandth point.
Snyder is one of only two players in Southern Lehigh history to score her thousandth point in only her junior season, the other being Erin Owens- class of 2004, who went on to score 2060 points over the course of her career, and eventually played division one basketball at Binghamton University.
"Obviously it's a great accomplishment, and I think we're the first teammates in Southern Lehigh history to accomplish it, so that's also a great accomplishment," Snyder said. "But I think we're more focused on winning than anything else. We want to get the state championship."
The expectations for Snyder's season were much higher than those for the typical junior. During her sophomore year, she was named to the all-state girls basketball team and walked into this season with over 20 scholarship offers to her name. So far, she has lived up to the hype, as she leads the team in scoring with 20.3 points per game.
"I've put a lot of work in during the offseason. I played AAU, I train every day in the fall and summer," Snyder said. "You never know, but I guess if you put the work in, it will come."
All the record breaking would be for nothing if the stats didn't translate into wins. This is where what Snyder and Mobley have done becomes truly special. So far this season the Spartans are 14-2 overall and 11-0 in league play at the time of publication. Their only two losses came early in the season to Archbishop Carroll and Easton, with scoring differentials of three and five, respectively.
However, outside of the losses, many of the Spartans' games haven't even been close, with an average scoring differential of 26 points in Southern Lehigh victories. One of the most important victories of the season came on January 20 against Cardinal O'Hare, the 24th ranked team in the state, where the Spartans won 44-36.
"I think we knew we were gonna be pretty good, just like last year," Mobley said. "Some teams we knew we were just gonna whoop up on, but some teams we knew were gonna be a challenge, like Cardinal O'Hare, but we just stepped up and worked hard in practice."
One of the more interesting challenges that the Spartans will face this season will be the jump in competition from the regular season to the playoffs. Traditionally, teams in the Colonial League are not as strong as the ones that the Spartans will see in the district and state playoffs. Being able to step up to a higher level of competition after getting used to the rhythm of the Colonial League will be an integral part of the Spartans' plan to capture the state championship.
However, with Snyder and Mobley leading the team, nothing is as challenging as it may at first seem.

About the Writer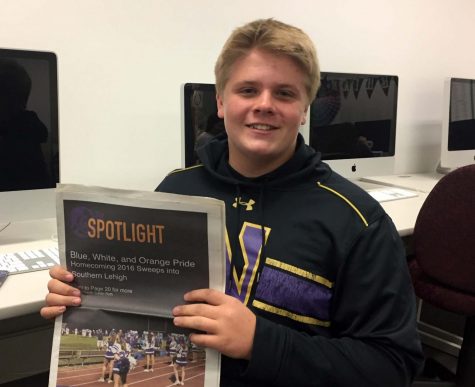 Townsend Colley, Sports Editor
Senior Townsend Colley is a four-year staff reporter and third-year sports editor for the Spotlight. In addition to writing for the newspaper, he plays...