Spartans Baseball Swings for the Fences (and a title)
Hang on for a minute...we're trying to find some more stories you might like.
April has come and gone, and for many sports fans across the United States, that is the signal that baseball season has started, and the Southern Lehigh High School varsity baseball team is poised for a strong season.
The Spartans are coming off of a strong 15 to 5 season last year, sadly with no titles to show for it. However, they are coming into the 2018 season feeling confident.
"I feel good. We've got a lot of key players from last year's team that are returning, and are a year older and improving," Coach Matthew Greenawald said. "The guys we have lost from last year's team are gonna be tough to replace, but I think we have the personnel in place to replace those guys and possibly be even better."
The team's confidence stems from a very deep pitching staff on this year's team in juniors Jacob Stanton, Stephen Hoyer, and Andrew Lievendag; sophomores Jared Glad and Colin Houck; and senior Sam Janney, and several other athletes who can pitch if called upon.
However, these players aren't just pitchers. The team is brimming with the type of versatility required for a solid defense.
"We've got a bunch of guys that can play in a bunch of places," Lievendag said. "We can have a pitcher be pitching and then someone easily replacing where he plays in the field."
In the first two losses of the 2018 season, the team only gave up two runs to Notre Dame Green Pond, and one run to Palmerton, highlighting a superb defense. The consensus around the team is that these two aspects of their game are their strongest.
However, despite a strong defense, the team is far from perfect. The Spartans' offense has not been able to match the same quality of play that is exhibited on the defensive side of the ball.
"We really need to hit, that's our main focus right now," Stanton said. "Scoring runs, getting hits, giving our pitchers run support."
Senior catcher Niko Amory echoed the same sentiment.
" We're streaky right now, but when we get going like we know we can, it's going to be hard to stop us," Amory said.
The most admirable trait about this team is that they are hungry for hardware. Coming off of the disappointing close of last season, they want more.
"Oh, championship for sure," Coach Greenawald said. "Colonial League championship, District championship, and go as far as we can in states."
The players seem to share the gold rush mindset as well.
"Definitely get past where we were last year and win a League and District Championship," Amory said. "And hopefully make a run at the State Title."
The team came out of the gates firing to open the season, winning three out of their first five games, including a 20 to 5 mauling of rival Northern Lehigh. This very talented team believes that this strong start means they could bring home a championship for Southern Lehigh.

About the Writer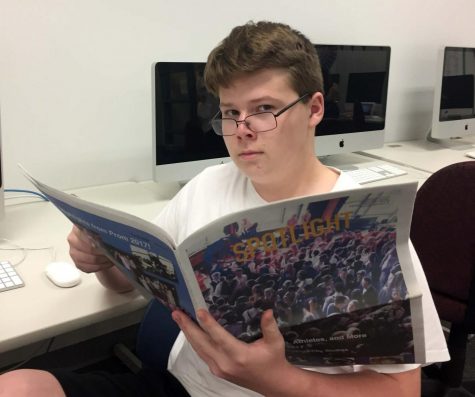 Griffin Schmoyer, Social Media Editor
Senior Griffin Schmoyer is a second-year staff reporter and social media editor for the Spotlight. He has attended Southern Lehigh since kindergarten,...