The Hoff Brothers Have Opponents Seeing Double
Hang on for a minute...we're trying to find some more stories you might like.
The NFL has the Mannings, the MLB has the Griffeys, and the NBA has the Currys. While Southern Lehigh doesn't have any families quite on that level, we do have, among other notable sibling athletes, the Hoffs.
Throughout the 2017-18 school year, brothers Colin Hoff, a senior, and Kyle Hoff, a sophomore, have started alongside each other in three different sports: soccer, basketball, and lacrosse. Together, these brothers have proven to be some of the best players on the field and the court, and when coupled together, they just become that much more dangerous.
From the opening minute of the first soccer game to the final whistle of the last lacrosse game, the Hoff brothers will have each other's backs, because they always have. Colin and Kyle began competing with and against each other from an early age. Growing up, they played the same sports. As soon as Colin picked something up, Kyle would pick it up a year later, and a new outlet for competition would begin.
"I feel like to a point he's always been looking up to me, but at the same time he's always been competing with me and my friends at a younger age," Colin said. "So he's been able to better himself along with making me better as well."
Since the beginning of time, older brothers have always led the way and tried to stay a little ahead of their younger brothers, who try to do what the older brother could never do; that classic cliche holds true with the Hoffs. This constant jockeying for position has only helped the two become the best they can be.
However, from youth lacrosse tournaments to varsity lacrosse games against elite teams, Colin and Kyle's favorite memories are in competing alongside each other, not against each other, knowing that someone has their back in these pressure-packed situations.
"Sometimes he gets on me for making mistakes and stuff, but I think overall that really improves how good I can become," Kyle said. "Like, last year when I was playing soccer with him, he'd always get on me for not shooting the ball enough. Like a coach. Things like that really help improve my game."
The years of playing with and against each other have given the Hoff brothers a connection that most could never understand. On the surface, the two have similar play styles influenced by years of watching and coaching one another.
But the connection goes deeper than what you can see on film.
Together, Colin and Kyle have created a bond that allows them to predict what the other can do before they even do it. This act of near clairvoyance has helped both to become not just starters, but team leaders in all three of their sports.
Colin led the soccer team in goals during the 2017 season, when he was a captain of the team, with many of those goals being assisted by Kyle, who became known for his skilled playmaking through the midfield. Following in his brother's footsteps, Kyle has already been named a captain for the boys soccer team for the 2018 season.
"Our movement off ball together is really good. One time I picked up a ground ball around midfield, and I spun around a guy to beat him, and then Kyle's defender slid to me," Colin said. "So I passed the ball to Kyle and then without even a thought, he saw me running back for a give and go, so he [quickly] gave me the ball faster than most other people could if they didn't know I was gonna make that cut. But he saw what was gonna happen and made the play happen."
Ultimately, the connection between the Hoff brothers has been paramount for the success of each team they have played on together. This season, the soccer team finished the season with a 9-2 record and a berth in the District XI semifinals. With Colin as one of only two seniors on the roster, the basketball team managed a slightly disappointing 10-8 record in the regular season, but they came in strong during the Colonial League tournament where they pulled off two consecutive upsets to make it to the championship game.
"Sports are definitely a big deal among our interests," Colin said. "We've grown up doing the same things together for years and it would feel abnormal if weren't together doing it."

About the Writer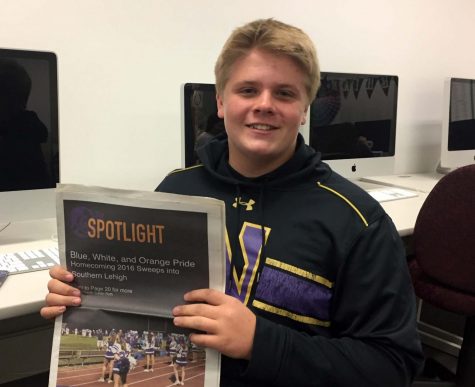 Townsend Colley, Sports Editor
Senior Townsend Colley is a four-year staff reporter and third-year sports editor for the Spotlight. In addition to writing for the newspaper, he plays...