There's No Senioritis On the Field For the Reese Sisters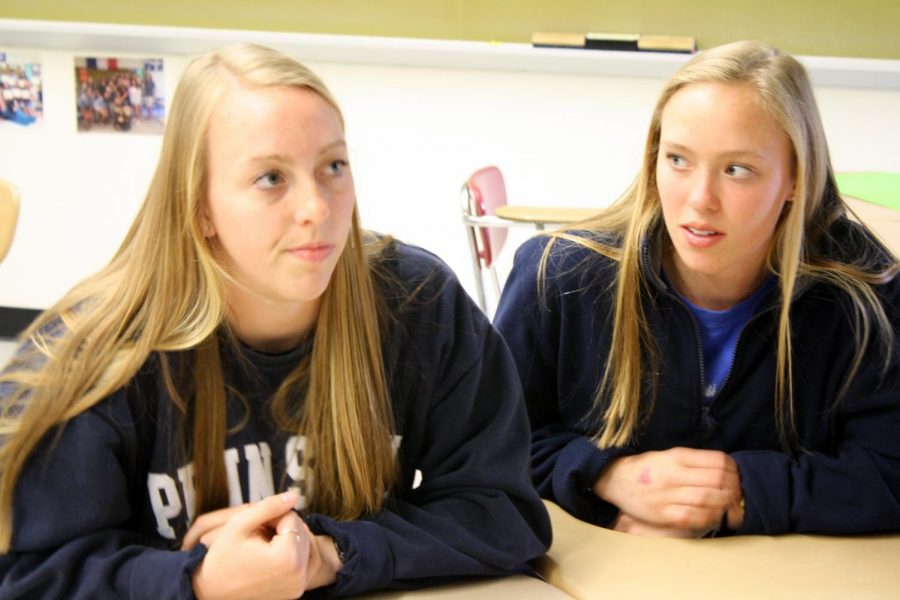 With graduation only a few more weeks away, most seniors are ready to pack their bags and say goodbye to high school, but some are spending their last semester creating new experiences.
This spring, seniors Madison and Meghan Reese are playing lacrosse: a sport neither sister has tried before.
Madison and Meghan are already famed athletes. Since the young age of 13, the twins have been field hockey stars. With Meghan as a forward and Madison as a defender, together they have brought home the title of Colonial League Champions and District XI Champions for two consecutive years in a row. By the October of their junior year, they had already committed to play at Pennsylvania State University, a Division l school, on a field hockey scholarship.
"Madison and Meghan are very technically sound field hockey players," head field hockey coach Mrs. Adrienne Searfoss said. "They know the fundamentals. They understand tactically what needs to be done on the field."
In previous years, the two played field hockey for their club team, Spooky Nook Field Hockey Club, year round. However, now that they are committed to Penn State, they decided to take the spring off to explore other activities. That's when they started considering a new sport.
"A lot of people said [lacrosse] was like field hockey, so we thought we would give it a try," Meghan said.
Many were surprised by this decision, including their field hockey teammates. Freshman Casey Krambergler-Gaglione, who plays on both the field hockey and lacrosse teams with Meghan and Madison, said that she did not expect them to try any sport besides field hockey.
"So my first reaction when I heard Megan and Madison were gonna join lacrosse was surprise because I knew they were really committed to field hockey," Kramberger-Gaglione said. "But I knew they would be really good at [lacrosse] because they're both really athletic."
The idea of trying out for a new sport did come with some hesitation. As a senior, trying to adjust into a community as tight knit as a sports team can come with its challenges.
"I think it's a lot in your senior year. You're looking ahead to college, the next phase of your life," Director of Athletics Chad Remaly said. "So trying something new while you have a lot of new things on the horizon can be a bit of a daunting challenge."
"[We were worried] if the girls would be accepting about [us joining] because sometimes when seniors try out, they get whiplash from the team if they're so tight together with the group," Meghan said. "So it's kinda hard to put yourself right in there."
Despite their anxieties, the Reeses were met with a very welcoming lacrosse team.
"Everyone was super nice," Meghan said, "And the coaches were really awesome. We did a winter league with them, so they really tried to get us up to speed with everything. It was really cool to have everyone supporting us."
In the past few weeks, the two sisters have become one with the lacrosse team, eliminating any doubt that they would be seen as outsiders.
"I think they're adjusting really well," sophomore Katrina Fleckenstein said. We're all really close as a team. They have a lot of friends here [in lacrosse] and it's a lot of fun with them."
The new experience has been incredibly beneficial to the two sisters. They both say that the team has helped them grow both as athletes and as people.
"I think anytime you try something new and challenge yourself in different ways it's a good thing," Remaly said. "To push your boundaries and get out of your comfort zone and build new relationships–that's what life's all about. You're gonna have to try different things and put yourself out there, so personally [I] think it's a pretty good thing."
To those thinking about trying out for a new sport, Madison has some advice: "Definitely do it. It's definitely fun. It's a little intimidating, but I say it's worth it."