With a Strong Starting Five, Spartan Girls Basketball Ready to Contend for State Title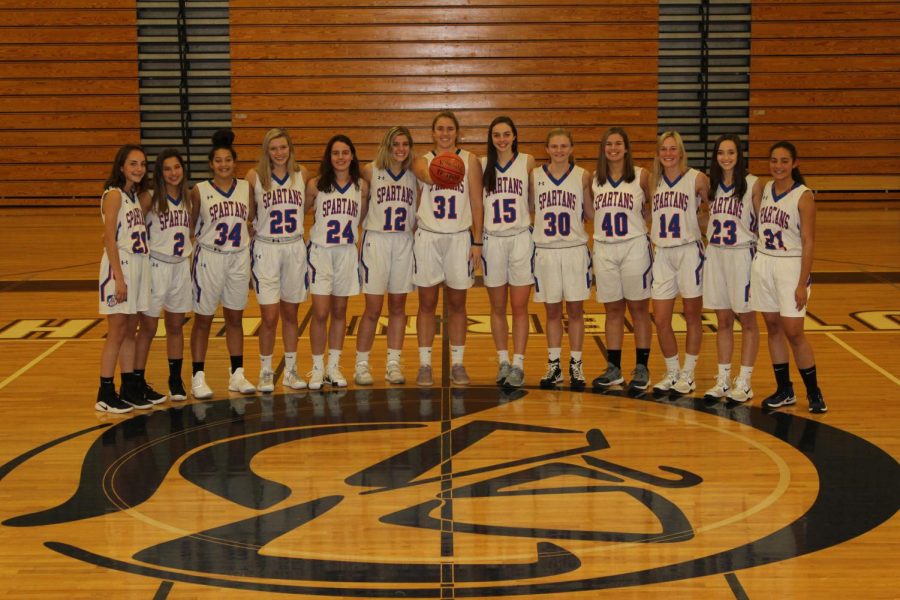 As of December 4, Southern Lehigh is shockingly ranked second to last on the overall Colonial League girls basketball standings, only because the letter "S" is pretty far down the alphabet, and the season has yet to begin. Check back on the Colonial League website in a month or two, and it's almost certain that Southern Lehigh will be number one in the rankings, most likely with the number zero in the loss column.
Anyone who follows girls basketball knows just how dominant Southern Lehigh has been. The last time they lost a league game was in 2015, when Northwestern squeaked by with a four-point win in the playoffs. Since then they have hammered every Colonial League team that stepped on the court with them, burying every league foe with a combination of dynamic offense and tenacious defense. The Spartans have conquered District XI and the Colonial League three years in a row, and the expectations are just the same as last year.  
"We want to win the Colonial League championship, [the] district [championship], and we are trying to make a run in States this year," senior guard Olivia Snyder said.  
Snyder is the reigning Lehigh Valley Live Girls Basketball Player of the Year and a Georgetown University commit. Since her freshman year, she has terrorized defenses with her unguardable jumpshot and smooth dribble moves. Couple Snyder's talent with fellow senior Ellie Cassel's post presence, and opposing coaching staffs end up clueless.
Cassel and Snyder are both four-year starters on the varsity team, and averaged 7.7 and 17.3 points per game last year, respectively. Where Cassel thrives in the paint, grabbing rebounds like the defense isn't even there, Snyder tends to dismantle defenses with her pull up jumpshot, soaring over defenders with her 6'0" frame.
Joining them in the starting five are the vital role players: junior Taylor Moncman, who averaged three points per game last year as a starter, and senior Alyssa Rice who averaged 3.7 points per game coming off the bench. Blending the defense of Moncman with the physicality of Rice will be key if the Spartans want to win the big games on their schedule, most notably Archbishop Carroll, Northampton, and Parkland.
Last year, Carroll was able to edge out the Spartans in a battle of state ranked teams by a score of 48-45. The Philly powerhouse stands out on the schedule in comparison to the other Colonial League foes slated for the winter months. Every year, the Spartans' kryptonite is their weak schedule. Having to play unskilled, small teams in the regular season and then jumping to perennial powerhouses in the playoffs proves to be a difficult mountain to climb.
For the past three years, the season has ended in the state playoffs. In 2016 and 2017,  it was in the Elite Eight, and last year they were only one game away from the state championship before losing to Archbishop Wood.
Making the road to Hershey even more difficult this year is the loss of Rider University commit Amanda Mobley. Mandy's 2018 graduation separated the virtually unstoppable threesome of Mobley, Snyder, and Cassel. She was an first team all-state point guard who took on most of the ball handling responsibilities for the Spartans, controlling the offense with her ability to see the entire floor and flick passes through defenders with ease.
Thankfully for head Coach Matthew Cooper, Mobley's younger sister Kaya logged some varsity minutes last year along with talented point guard Jeanne Rautureau. These two sophomores play far beyond their age, a necessity for a point guard looking to facilitate the offense. Although she doesn't have the offensive firepower of her sister, Kaya Mobley's three point shooting and defense will likely earn her a spot on the starting lineup this year.
"Kaya has done a good job stepping up being the point guard," Cooper said, "but everybody has to play a slightly different role when you lose players like Mandy."
Coach Cooper, Morning Call's Girls Basketball Coach of the Year in 2016, has done a phenomenal job creating the dynasty here at Southern Lehigh. He dedicates most all of his free time to the team, creating competitive foul shooting games at practice as well as decorating his room with records of Colonial League opponents and newspaper clippings of girls basketball articles.
"We hang up articles about the girls because it lets them know we value their efforts," Cooper said, "I think it's important for other people to see their achievements and hopefully it inspires them to keep going and to be as successful as possible."
This year, Cooper, along with everyone else at Southern Lehigh, hopes to see a different article hanging outside of his room. An article with the Southern Lehigh girls basketball team picture front and center, gold medals hung around their necks, smiles on their faces, and a headline reading "State Champs!"
About the Contributor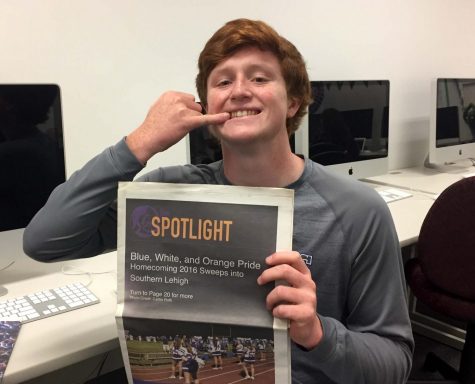 Quinn Schmidt, Sports & Entertainment Editor
Senior Quinn Schmidt is a third-year  staff reporter and second-year entertainment editor for the Spotlight. This year he also stepped up to fill the...